GARDEN RIVER — About a dozen community members and cannabis dispensary owners in Garden River First Nation (GRFN) were shocked when they arrived at the Band Council office for a "Cannabis Retail Information Session" on Dec 18th, 2019 only to find the doors locked and the meeting cancelled. The members had been personally invited to Council Chambers the day before with a poster hand delivered to their businesses, announcing that "GRFN Chief & Council's Cannabis Working Group would like to invite those interested in Cannabis Retail to come and provide input and discuss public policy, health regulation and cannabis law development initiatives."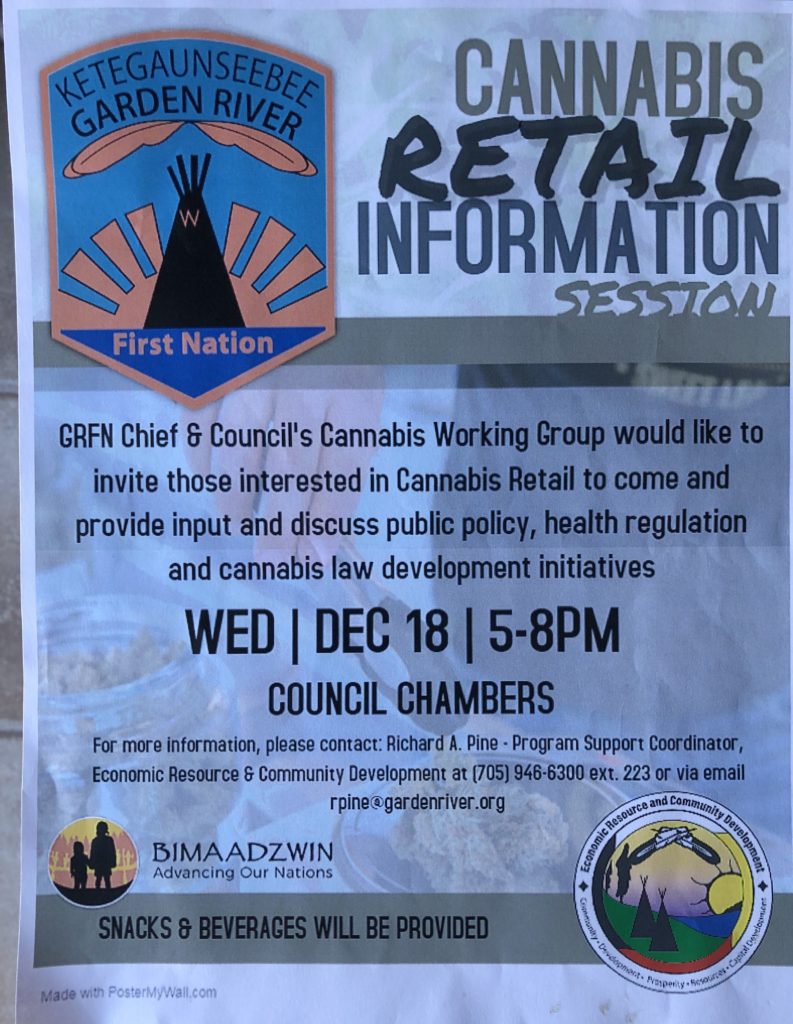 The meeting was called after a rally by over 50 community members was held outside Council Chambers in protest of Council's decision to pass a "cannabis moratorium" Band Council Regulation. Community members had gotten ahold of a leaked copy of a 144 page report prepared for Band Council by the Indigenous-led consulting firm Bimaadzwin Inc. which advocated the integration of the Garden River cannabis industry into a system "mirrored" to the Federal government and involving an 8% "tax" on all cannabis sales.
The community and store members in attendance came with a two page letter to the meeting. Their letter called for the Band Council to sever its relationship to the Bimaadzwin and included a nearly 5000 word analysis of the 144 Bimaadzwin "Cannabis Exploration" document.
Members of the Ketegaunseebee Medzin Society also announced a community meeting on Thursday, Dec 19th at the Community Centre. Constitutional expert Del Riley, a former leader of the National Indian Brotherhood and Assembly of First Nations who was intimately involved in negotiating the constitution and writing sections 25 and 35 on the Constitution will be explaining how he views the rights of Indigenous people to the use of cannabis on their own lands.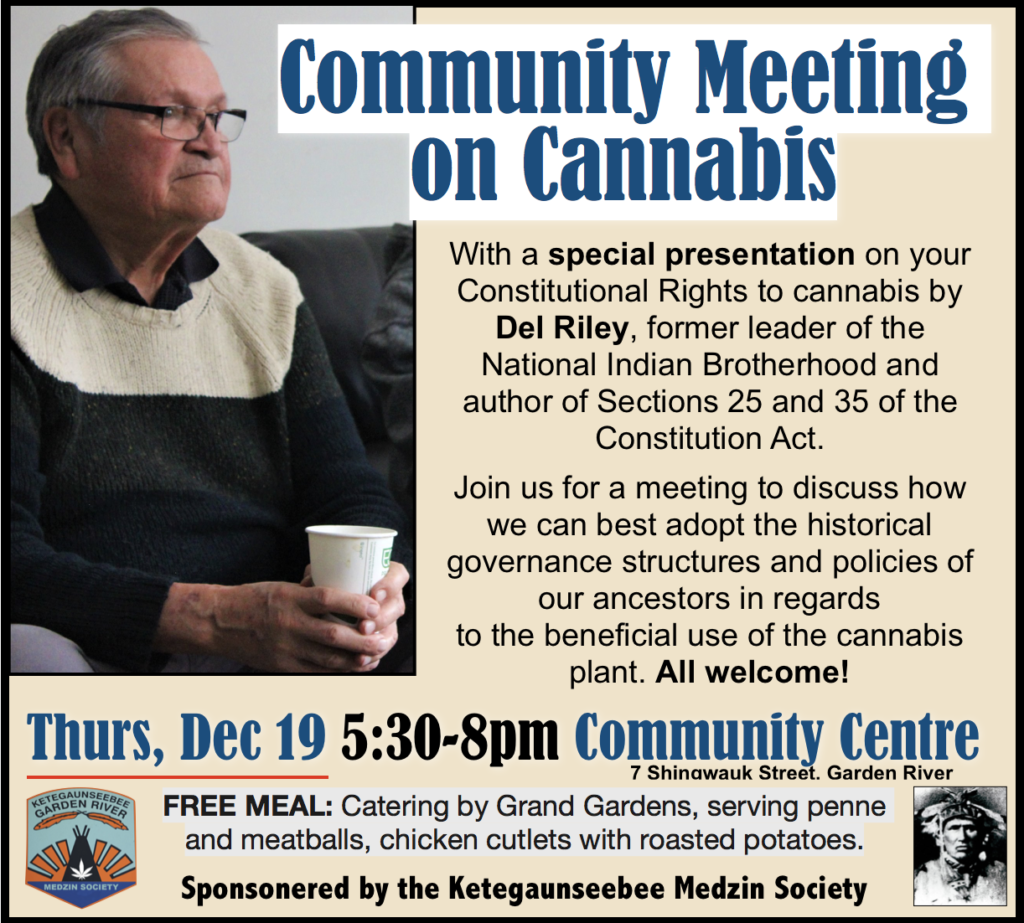 The letters they provided council are reproduced below.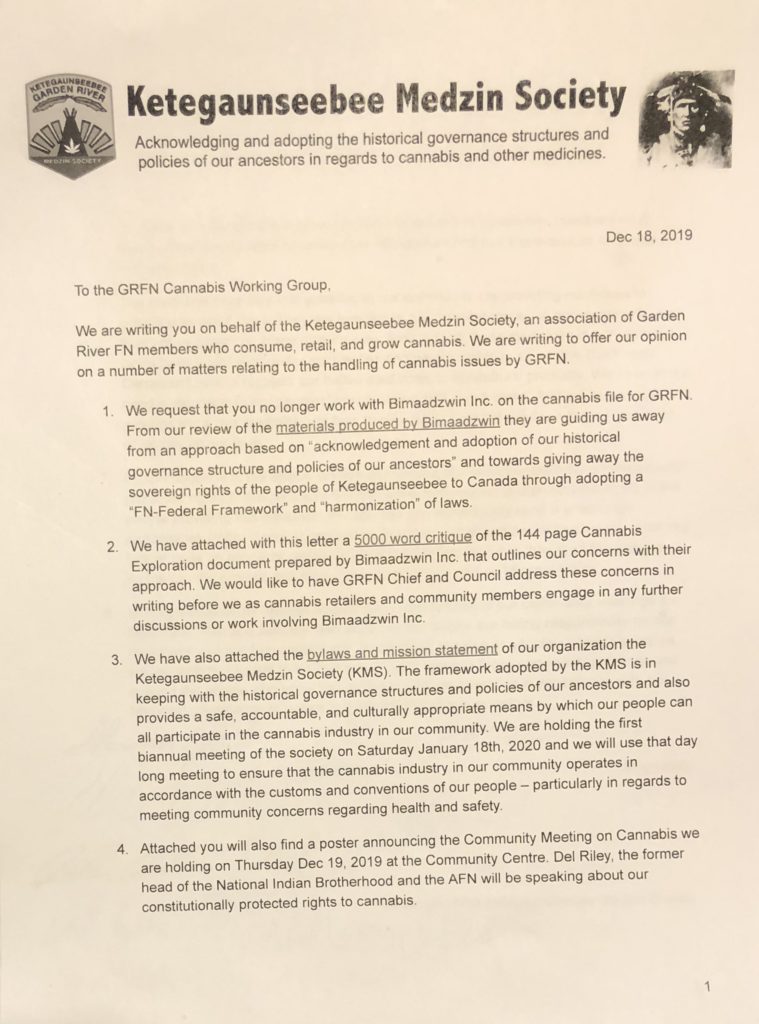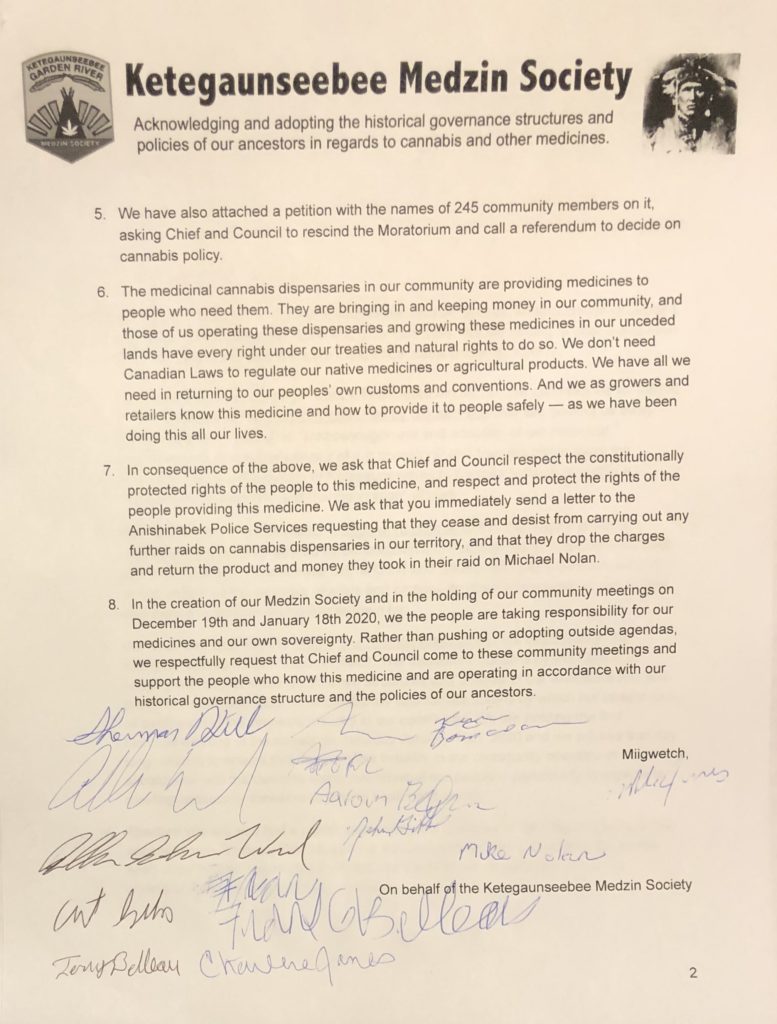 The full text of the letter is reproduced below
Dec 18, 2019
To the GRFN Cannabis Working Group,
We are writing you on behalf of the Ketegaunseebee Medzin Society, an association of Garden River FN members who consume, retail, and grow cannabis. We are writing to offer our opinion on a number of matters relating to the handling of cannabis issues by GRFN.
We request that you no longer work with Bimaadzwin Inc. on the cannabis file for GRFN. From our review of the materials produced by Bimaadzwin they are guiding us away from an approach based on "acknowledgement and adoption of our historical governance structure and policies of our ancestors" and towards giving away the sovereign rights of the people of Ketegaunseebee to Canada through adopting a "FN-Federal Framework" and "harmonization" of laws.
We have attached with this letter a 5000 word critique of the 144 page Cannabis Exploration document prepared by Bimaadzwin Inc. that outlines our concerns with their approach. We would like to have GRFN Chief and Council address these concerns in writing before we as cannabis retailers and community members engage in any further discussions or work involving Bimaadzwin Inc.
We have also attached the bylaws and mission statement of our organization the Ketegaunseebee Medzin Society (KMS). The framework adopted by the KMS is in keeping with the historical governance structures and policies of our ancestors and also provides a safe, accountable, and culturally appropriate means by which our people can all participate in the cannabis industry in our community. We are holding the first biannual meeting of the society on Saturday January 18th, 2020 and we will use that day long meeting to ensure that the cannabis industry in our community operates in accordance with the customs and conventions of our people – particularly in regards to meeting community concerns regarding health and safety.
Attached you will also find a poster announcing the Community Meeting on Cannabis we are holding on Thursday Dec 19, 2019 at the Community Centre. Del Riley, the former head of the National Indian Brotherhood and the AFN will be speaking about our constitutionally protected rights to cannabis.
We have also attached a petition with the names of 245 community members on it, asking Chief and Council to rescind the Moratorium and call a referendum to decide on cannabis policy.
The medicinal cannabis dispensaries in our community are providing medicines to people who need them. They are bringing in and keeping money in our community, and those of us operating these dispensaries and growing these medicines in our unceded lands have every right under our treaties and natural rights to do so. We don't need Canadian Laws to regulate our native medicines or agricultural products. We have all we need in returning to our peoples' own customs and conventions. And we as growers and retailers know this medicine and how to provide it to people safely — as we have been doing this all our lives.
In consequence of the above, we ask that Chief and Council respect the constitutionally protected rights of the people to this medicine, and respect and protect the rights of the people providing this medicine. We ask that you immediately send a letter to the Anishinabek Police Services requesting that they cease and desist from carrying out any further raids on cannabis dispensaries in our territory, and that they drop the charges and return the product and money they took in their raid on Michael Nolan.
In the creation of our Medzin Society and in the holding of our community meetings on December 19th and January 18th 2020, we the people are taking responsibility for our medicines and our own sovereignty. Rather than pushing or adopting outside agendas, we respectfully request that Chief and Council come to these community meetings and support the people who know this medicine and are operating in accordance with our historical governance structure and the policies of our ancestors.
Miigwetch,

[Signed] Members of the Ketegaunseebee Medzin Society"