KITIGAN-ZIBI – From June 9th to July 15th, 2023 a grassroots committee of Kitigan Zibi residents conducted a community survey to learn more about their people's attitudes to cannabis. 114 people responded to the survey and they overwhelmingly came out in support of a sovereign and medicinal approach to cannabis in their community.
Kitigan Zibi does not currently have any dispensaries open, but interest in opening up local shops increased after community member Anthony Tenasco opened a Medicine Wheel Natural Healing location on unceded lands in downtown Ottawa.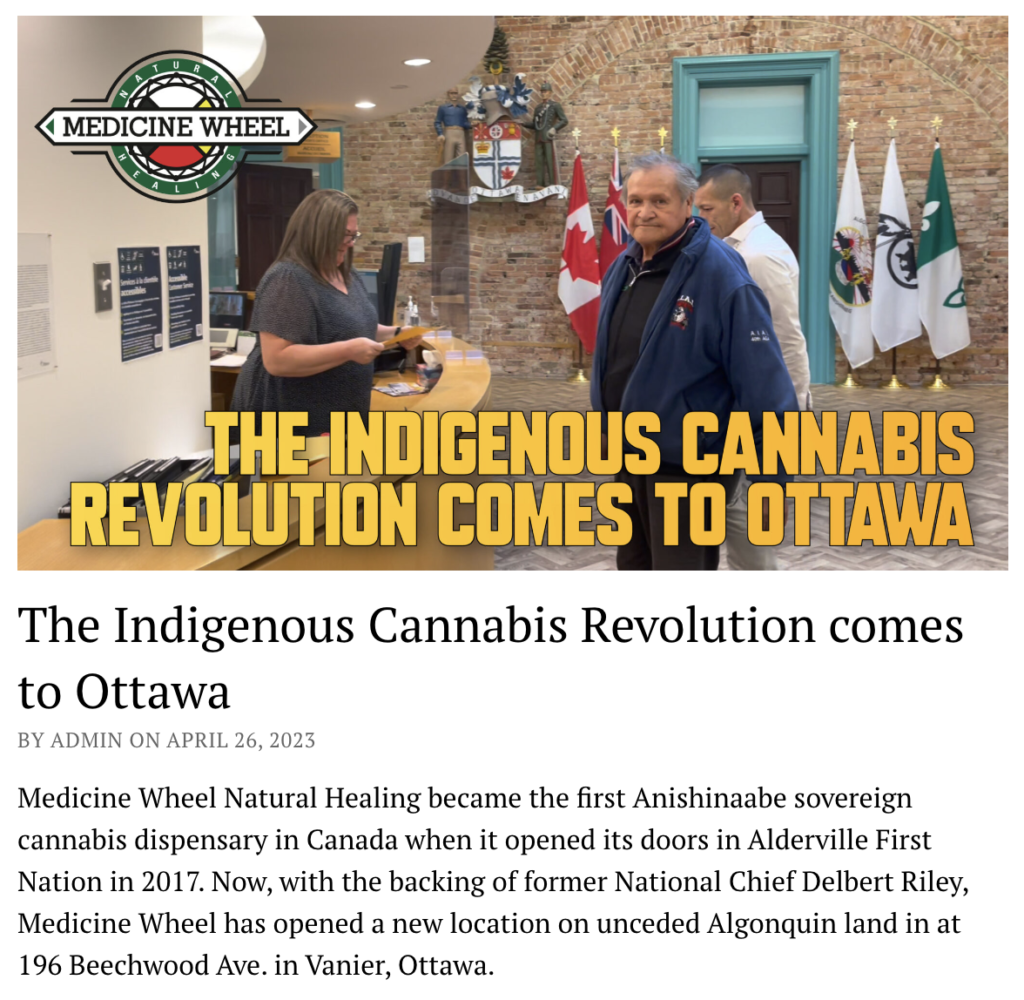 The KZ Grassroots Council on Cannabis was created after former National Chief Del Riley held a workshop in the community on May 13th, 2023 that addressed many longstanding concerns that community members had with cannabis and cannabis regulation on reserve.
In early June, the Grassroots Council began circulating the survey, which was delivered to all of the 600+ homes in the community and shared on social media networks. By the July 15th deadline for the survey, 114 people from the community had filled out the survey.
85.6% of respondents considered cannabis to be a medicine, and 80% considered cannabis to be a medicine consistent with Indigenous healing practices. An overwhelming 92.7% of respondents considered that the people of Kitigan Zibi have a "sovereign right to determine their own path and choices regarding cannabis."
On the topic of regulation, 26.9% of respondents thought cannabis in the community should be regulated by traditional medicine people according to Algonquin custom and convention. 54.6% thought cannabis should be regulated by an association of Indigenous cannabis retailers, while 19.4% thought that the Indian Act band council should have a say. Of note, while 13.9% said they weren't sure how cannabis should be regulated on the reserve, 0% of respondents said that they thought the Province or Federal government should have any say in regulating cannabis on reserve.
Survey respondents also showed overwhelming support for adults being able to purchase cannabis for medicinal purposes (98.2% in favour) as well for recreational sales of cannabis on the reserve (97.3% in favour).
The top three medicinal reasons for cannabis use according to the survey were pain relief, dealing with stress, and insomnia.
Survey Results of the 2023 Kitigan Zibi cannabis survey
A PDF version of survey results can be accessed below.