Audio recording reveals OPP Detectives told the Hwy 17 Dispensary and Trading Post that they would only raid if "the township does not permit it."
By Dispensing Freedom staff
MASSEY – On Aug 17th, 2023, the sovereign Highway 17 Dispensary and Trading post was opened at 195 Sauble St. in Massey, with a well attended speaking event featuring former national Chief Delbert Riley. Before the event, Chief Riley delivered letters to the town council and the OPP informing them of the inherent Aboriginal and treaty rights at play, and offered authorities an opportunity for dialogue and education. The Highway 17 Dispensary and Trading post is one of over 40 other sovereign Indigenous trading posts operating off-reserve in unceded Indigenous lands in Ontario.
Less than a month later, on Thursday, Sept. 14th, the shop was raided and store spokesperson and Sagamok First Nation member Vicki Nicholson was arrested and held behind bars for 24 hours. However, the shop remains open, and a battle over constitutionally protected Aboriginal and treaty rights is expected to heat up as supporters gear up for a series of rallies taking place on October 2nd in support of the Indigenous right to an independent economy.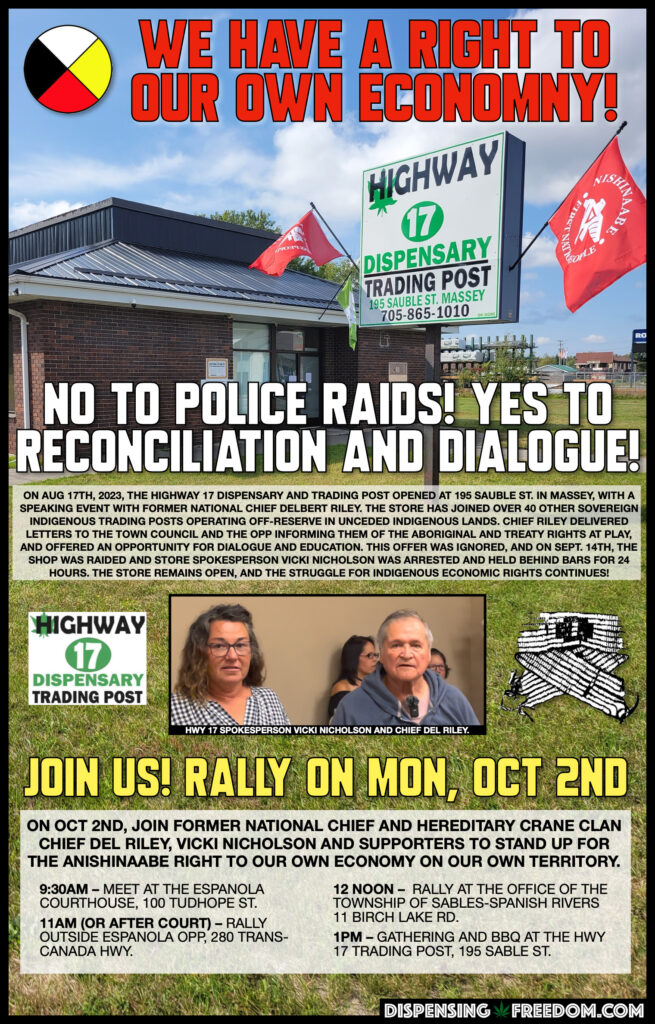 According to Chief Riley, the fundamental question at stake is whether Anishinaabe people have an "Aboriginal and treaty right" to operate tax free businesses on their unceded lands, subject to their own regulation and oversight. "We never gave up our inherent rights to an economy or to our lands," Chief Riley said. "The British Crown unilaterally disrupted our treaty relationship with the BNA Act of 1867 which created the "Dominion of Canada," and which gave the Federal government responsibility for "Indians and land reserved for Indians."
Chief Riley stated that the openly racist John A. Macdonald then came up with the Indian Act in 1876 which displaced Indigenous people from their traditional territories, forced their children into genocidal residential schools, and locked Indigenous people onto reserves they couldn't leave without passes. The race-based Indian Act was an inspiration for South African Apartheid policies and continues to infringe on the rights of Indigenous people today.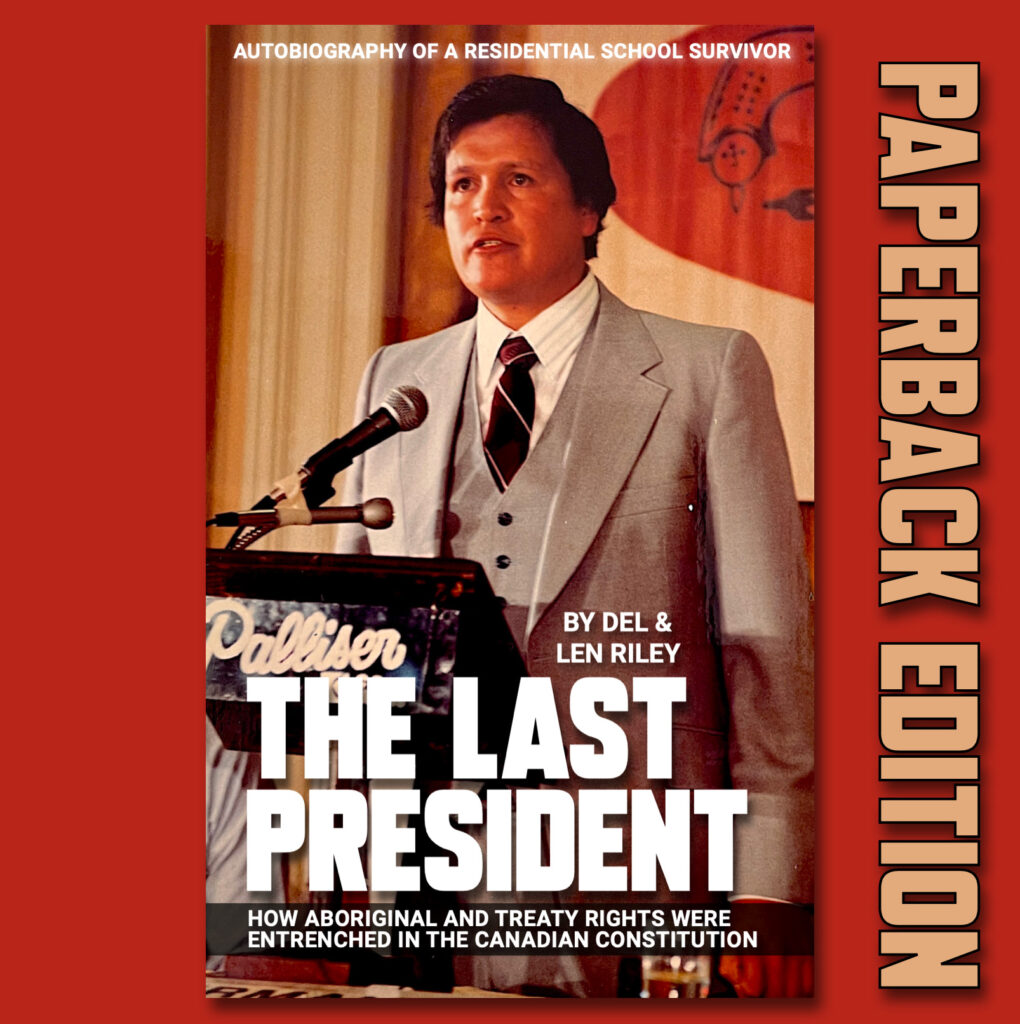 Chief Riley holds that Indigenous people have an "Aboriginal and treaty right to use their traditional territory to engage in trade and the provision of plant medicines in accordance with [their] Section 25 and 35 constitutionally protected rights." Chief Riley was the president of the National Indian Brotherhood, the forerunner to the Assembly of First Nations, and played a crucial role in negotiating the entrenchment of these rights in the Canadian constitution as he describes in detail in his autobiography, The Last President.
In a series of letters to the OPP and the Township of Sables-Spanish Rivers on behalf of the Hwy 17 trading post, Chief Riley has reminded Canadian authorities that the United Nations Declaration on the Rights of Indigenous People Act which was passed into Canadian law in 2021 is "affirmed as a source for the interpretation of Canadian law" and that the law states that "the Government of Canada must, in consultation and cooperation with Indigenous peoples, take all measures necessary to ensure that the laws of Canada are consistent with the Declaration." 
Among other points, the Declaration states that Indigenous people have "the right to self-determination… and [to] freely pursue their economic, social and cultural development," "to be secure in the enjoyment of their own means of subsistence and development, and to engage freely in all their traditional and other economic activities," and "the right to their traditional medicines and to maintain their health practices, including the conservation of their vital medicinal plants, animals and minerals."
OPP deliver a warning about town council
On August 22nd, Detective Constables C. Bonin and T. Bronicheski of the Ontario Provincial Police (OPP), came to the Highway 17 dispensary and dropped off a document entitled, "Relevant sections of the Cannabis Act that could apply to operating an unlicensed Cannabis dispensary." While in the store, the officers were recorded by security cameras.
According to an audio version of the discussion between staff members and the officers obtained by Dispensing Freedom, in speaking to the legality of the store, one of the officers stated that: "If the town permits it that's one thing. If the town says yes, you can. But the township does not permit it. So obviously, try to get them on board, that's your first step. If they say yes, you're good to go, no problem."
Chief Riley replied to the letter dropped off by the OPP a day later, stating that "I appreciate that your document title indicates that these sections could apply to an unlicensed Cannabis dispensary, because as you are aware, the Cannabis Act does not actually apply to all unlicensed cannabis dispensaries. Personally, I am aware of over 475 sovereign Indigenous cannabis dispensaries that are currently in operation to which the sections of the Cannabis Act that you quoted do not apply." Chief Riley again explained the Aboriginal and treaty rights at stake, indicated that store representatives would be attending the next council meeting, and repeated his offer to meet with the OPP to educate them on Aboriginal and treaty rights.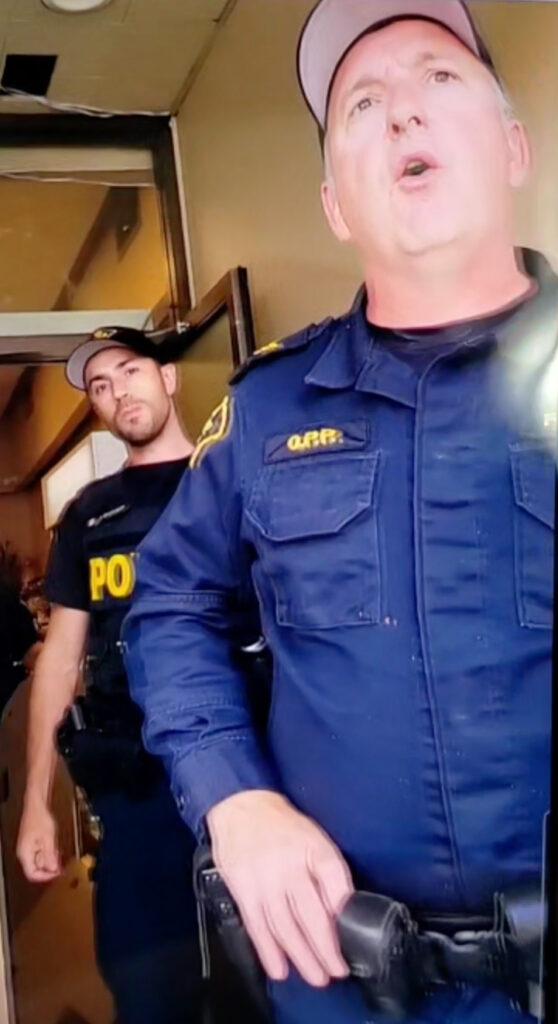 Dispensing Freedom spoke with OPP media representative John Hill of the Little Current OPP detachment. Officer Hill stated that the "matter is before the courts" and that "it will be up to the courts to decide on the constitutionality" of the charges. Officer Hill stated that he was unaware of the OPP having any kind of policy to provide officers with direction into how to assess the legality of Indigenous cannabis dispensaries on or off reserve. He also stated that he was unable to comment on the statements of Detective Constables C. Bonin and T. Bronicheski, but that he would ask them if they wished to comment, and would also go up the chain of command and see if his Inspector wished to make a comment on the matter. 
In a similar situation in the town of Stratford, Ontario, where a sovereign Indigenous cannabis dispensary opened up using the same constitutional arguments as those of the Hwy 17 Trading post, police investigated the issue and according to a September 14th article in the Stratford Beacon Herald, Stratford police Insp. Mark Taylor informed the police services board that neither the Crown or local bylaw office would be seeking any enforcement action. According to Inspector Taylor, "We've got no further response from the government or anyone else as far as what to do… There have been some other [Indigenous-owned dispensaries] that have popped up in Ontario and, right now, it's status quo…. [We've had] some minor complaints from some of the other dispensaries in town, but that's it."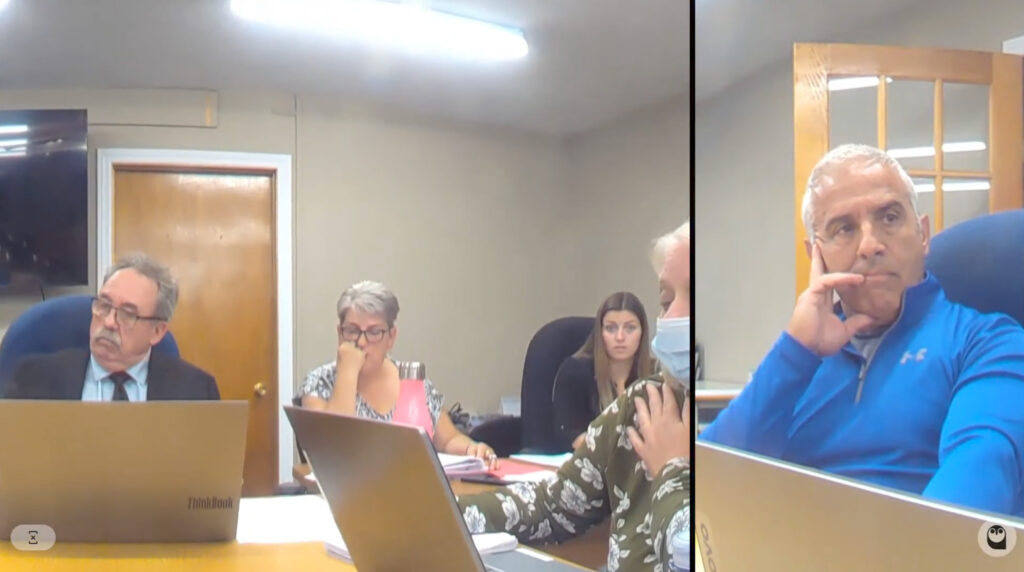 Town Council opposed to cannabis stores
On September 13th, the day before the Hwy 17 Trading Post was raided, Mayor Kevin Burke briefly spoke about an OPP investigation of the shop. "The store that has been set up in Massey, that's under OPP investigation as we speak. That's all we can say." Immediately following this statement, the Mayor formally criticized the members of his council for ignoring the rules of their Code of Conduct.
"Our clerk and staff have a job to do. We have to let them do it. We can't be going in an official capacity to the police. We have to let the clerk and staff do their job. If citizens come to us with a complaint, the proper way to do it, is to direct them to the clerk and our staff. It's not to go an investigate it, and then give it to the clerk, or it's not to hold a meeting with a bunch of people without first coming to council," the Mayor said.
When Deputy Mayor Mike Mercieca pointedly asked Mayor Burke if his comments were specifically directed at him, the mayor replied by stating, "I'm not directing it at anybody, otherwise it would be a closed session." Dispensing Freedom spoke with Deputy Mayor Mike Mercieca but he declined to offer comment on this matter. Calls to Mayor Burke went unanswered by press time.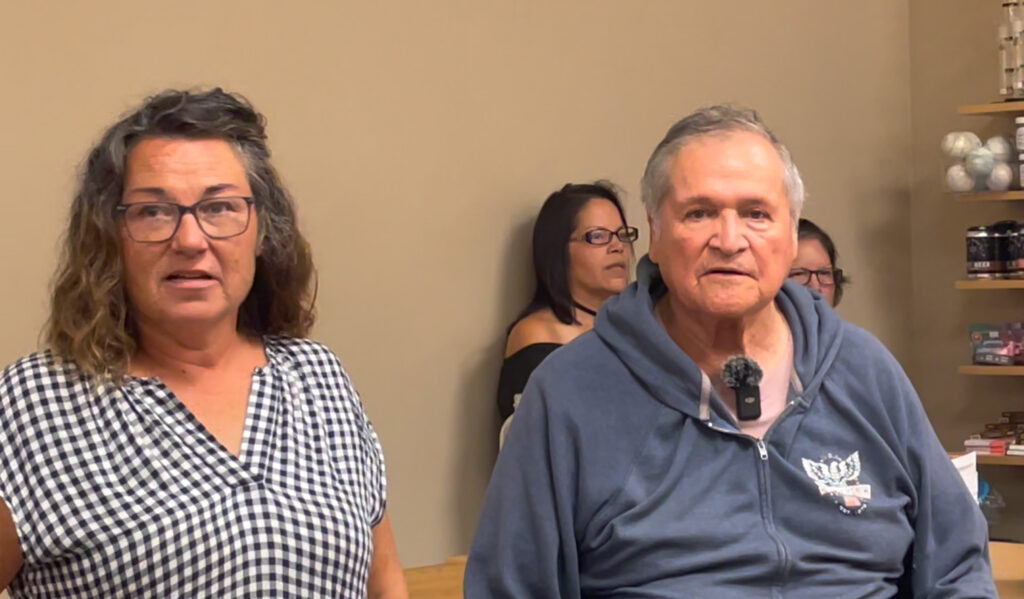 Trading post vows to remain open
In a media statement released on Sept 20th, the Hwy 17 Trading Post stated it would remain open, and that its presence in Massey "represents a deliberate exercising of sovereign Anishinaabe rights." The statement also declared that, "We view the actions of Mayor Kevin Burke and his council in pressuring the OPP to violate our Aboriginal and treaty rights to be a slap in the face of all Anishinaabe people. It is the height of hypocrisy for the Township of Sables-Spanish Rivers to open council meetings with an Indigenous land acknowledgement for our people, only to encourage the OPP's violation of our Aboriginal and treaty rights and to refuse to meet and engage with us."
The media statement concluded with a request to meet with the municipality to "put an end to the continued harm of our people by a municipal leadership ignorant of our rights and their place as guests in Anishinaabe lands."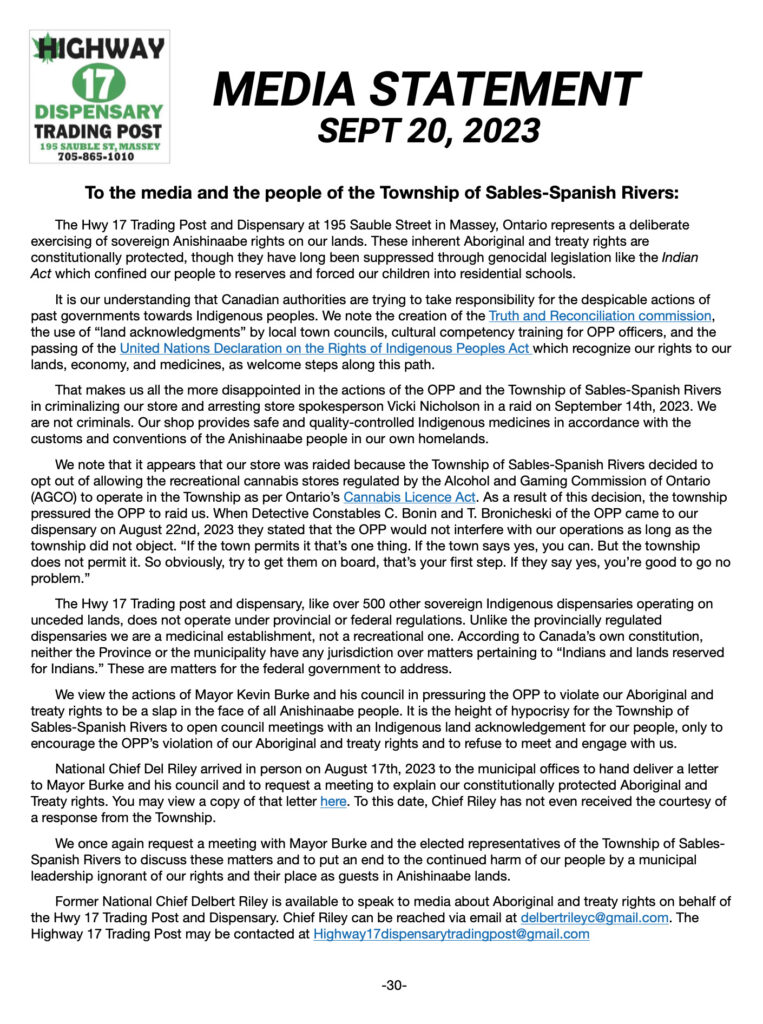 Supporters of the trading post will be holding a series of rallies in the area on October 2nd, the first court date for Vicki Nicholson. Gathering at the Espanola Courthouse located at 100 Tudhope St. at 9:30am, supporters are invited to then drive together to deliver a letter and protest outside the offices of the Espanola OPP, (280 Trans-Canada Hwy.) and to do the same at the offices of the Township of Sables-Spanish Rivers at 11 Birch Lake Rd. The day's events will conclude with a BBQ and speech given by Chief Del Riley at the Hwy 17 Trading Post, located at 195 Sable St. in Massey. 
The Highway 17 Trading post is located at 195 Sauble St. in Massey and can be reached at 705-865-1010. They are open from 11am-5pm Saturday and Sunday, closed on Mondays, and open from 5:30pm to 8pm Tuesday to Friday.