The iconic Indigenous cannabis brand Medicine Wheel Natural Healing has opened a sovereign medicinal cannabis storefront on unceded Algonquin lands in Ottawa with the support of former National Chief Del Riley.
OTTAWA – Medicine Wheel Natural Healing became the first Anishinaabe sovereign cannabis dispensary in Canada when it opened its doors in Alderville First Nation in 2017. Now, with the backing of former National Chief Delbert Riley, Medicine Wheel has opened a new location on unceded Algonquin land in at 196 Beechwood Ave. in Vanier, Ottawa.
The grand opening of Medicine Wheel Ottawa occurred on April 20th, an international day for cannabis awareness and advocacy. To mark the store's opening, Chief Riley, a former National Chief who led the constitutional negotiations in the early 1980s that saw Aboriginal and treaty rights enshrined in Sections 25 and 35 of Canada's Constitution Act, delivered letters to Ottawa City Hall and the Ottawa Police Services.
Because Medicine Wheel is operating on unceded Algonquin lands in Ottawa, Chief Riley holds that the Aboriginal and treaty rights of its owners – which include the right to trade and provide medicine – are protected under Sections 25 and 35 of the Canadian Constitution. Chief Riley's letter to Ottawa Mayor Mark Sutcliffe referenced the city's policy on Indigenous relations which notes that "Ottawa is built on un-ceded Anishinabe Algonquin territory" and proclaims that, "The City of Ottawa honours the peoples and land of the Anishinabe Algonquin Nation."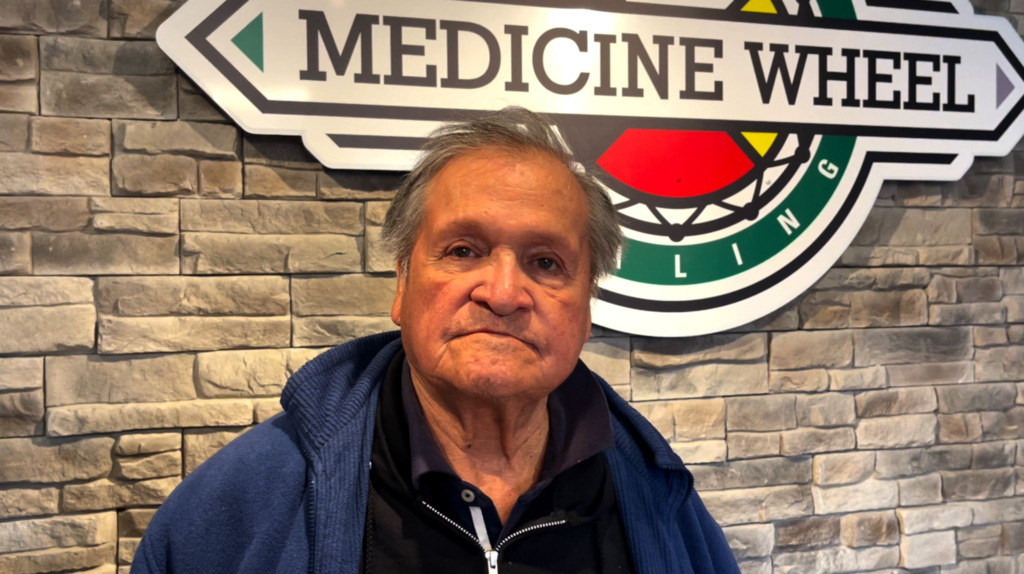 In relation to these policies, Chief Riley wrote that "I trust that you will extend the honour and recognition spoken of in the City's policies to Mr. Tenasco and Medicine Wheel Natural Healing. I am glad that the City of Ottawa recognizes that it is built upon the lands of the Anishinabe Algonquin Nation, which as [Kitigan Zibi Indian Act] Chief Dylan Whiteduck reminds us, have never been ceded "through treaty or any other means" and are currently the subject of an Aboriginal title claim by the Kitigan Zibi Anishinabeg that was filed in 2016 and recently renewed in December of 2022."
Chief Riley's letter included an offer to sit down and discuss the matters with the City and Police on behalf of Medicine Wheel in order to explain "in detail how constitutionally protected Aboriginal and treaty rights apply in this matter." Chief Riley will next be in Ottawa on Friday, May 12th, 2023 where he is speaking on the topic of the "Indigenous right to cannabis" at the Westin Hotel with constitutional lawyer Jack Lloyd, and Medicine Wheel Natural Healing representatives Rob Stevenson and Anthony Tenasco. Chief Riley has also recently released his autobiography, The Last President, which will be available for sale at the event.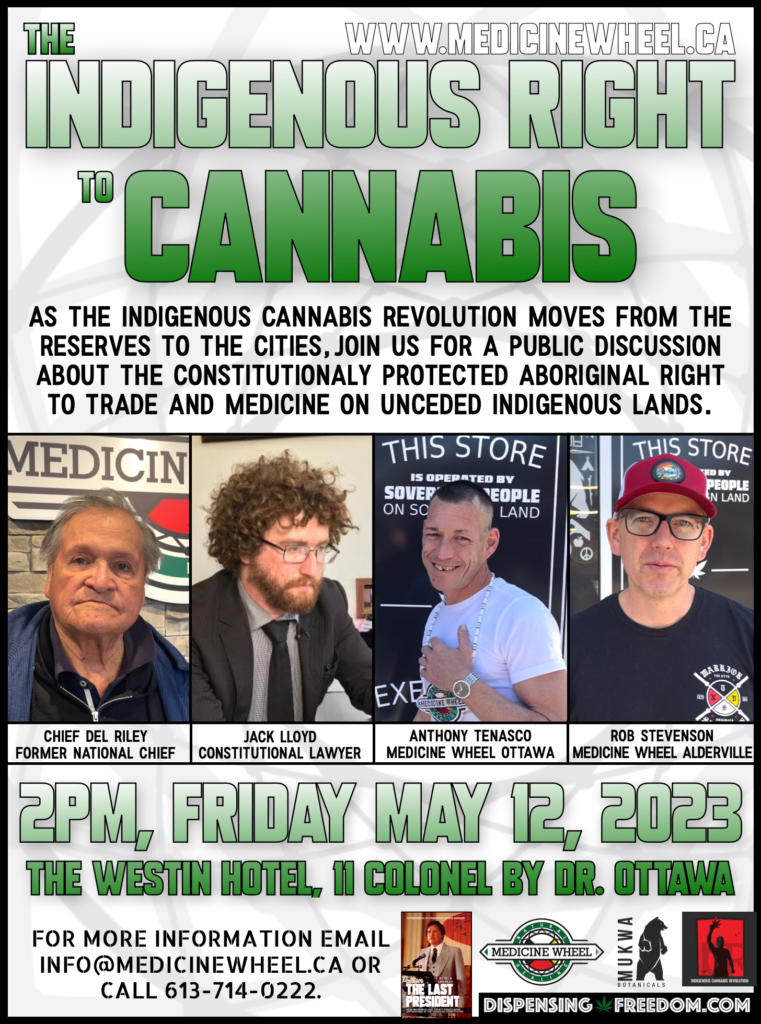 The Indigenous Cannabis Revolution sweeps across Canada
After Justin Trudeau was elected in 2015 on the promise of legalizing cannabis, hundreds of "grey market" cannabis dispensaries opened up across Canada after a series of successful constitutional challenges confirmed a medicinal right to access the plant. While most grey market dispensaries were closed as Canada rolled out its costly and highly regulated "recreational" cannabis system, Indigenous dispensaries providing cannabis as a medicine have continued to expand and thrive on unceded Indigenous lands – without any regulation or control by Health Canada or provincial authorities.
Dispensing Freedom now lists 475 Indigenous dispensaries which have been established on a sovereign basis. After the Federal Government's Covid-19 policies resulted in a months long "lockdown" of practically every Indigenous community in Canada, Indigenous businesses suffered as customers moved online and away from on-reserve dispensaries which they couldn't access. In response to changing economic circumstances, sovereign Indigenous cannabis dispensaries began opening shops in cities located on their unceded lands.
As Chief Riley noted in his letter, "Members of the Mississaugas of the Credit First Nation and the Mohawk Nation have now opened over a dozen sovereign cannabis trading posts in downtown Toronto. Members of the Chippewa Nation and the Oneida Nation have similarly opened up shops in downtown London, Ontario. Members of the Micmac Nation have also opened shops on their unceded lands in Halifax and Moncton. After over a year of operation in Toronto, none of the Indigenous shops in the city have been raided, and they have made a positive contribution to the city, to Indigenous entrepreneurship, and towards reconciliation with Canada. I am hopeful these shops point towards a new era of economic reconciliation and that the days of Canada's economic genocide towards Indigenous people are drawing to a close."
In an interview with Dispensing Freedom at the Medicine Wheel storefront in Ottawa, Chief Riley stated that, "I'm happy to be here because we've got a First Nations business operating in Ottawa, and everything seems to be working out perfectly. This is something that First Nations have to start doing all over the place. Because on the reserves, they don't have much access to the markets in order for them to develop their own economy and businesses."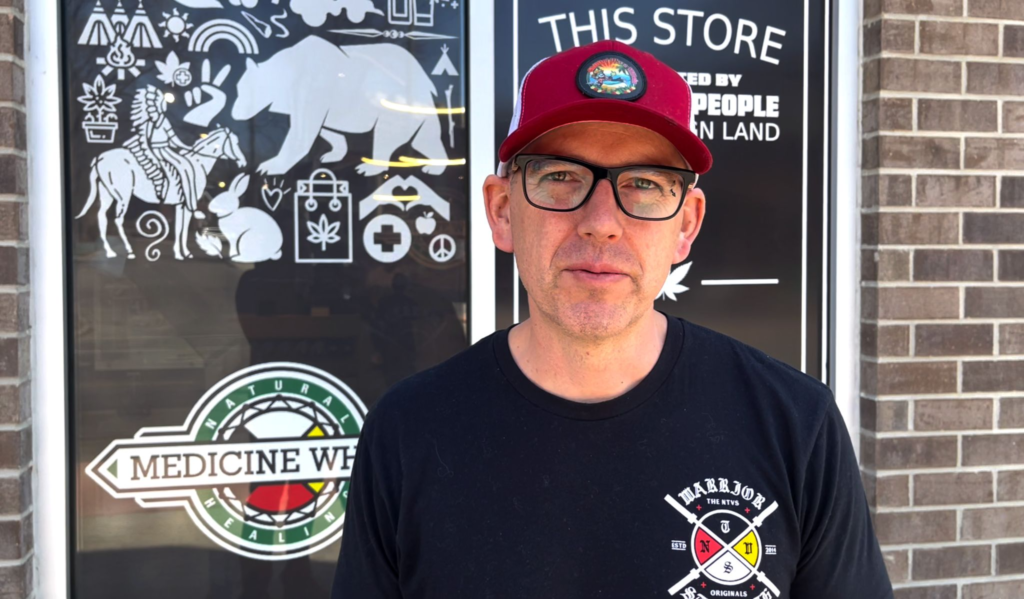 Medicine Wheel focuses on cannabis as a medicine
Medicine Wheel Natural Healing has a justly deserved reputation for providing high quality Indigenous made cannabis products for medicinal purposes. As founder Rob Stevenson pointed out, "Everything in this store is a medicine." All products sold through Medicine Wheel come from Indigenous sources and are rigorously tested for potency and quality through the Red Feather Certification process.
In order to qualify for the Red Feather seal of approval, products must have been "made safely without the use of pesticides and herbicides, and [have] undergone a quality control process to be tested. The certification also indicates that the majority of the ingredients of a given product were sourced and manufactured Indigenously, and that a portion of the proceeds are returned to the community through a voluntary donation program."
According to Medicine Wheel Ottawa spokesperson Anthony Tenasco, the starting point of the business is to help people in need. Operating from an Indigenous centred framework, Mr. Tenasco is passionate about his mission. "We want to help people understand that cannabis is a medicine. Many doctors don't want you to know that. They're out there pushing pills on people and creating drug addicts."
Medicine Wheel's approach is to help clients become educated about the medicinal aspects of cannabis. Every customer who enters the store is asked if they are seeking cannabis for medicinal or recreational purposes, and staff are educated on how different strains of cannabis and different cannabis products can be used for healing.
As Mr. Tenasco puts it, "You can come to us when you have a pain and instead of going to the pharmacy and getting your pills filled, you can come to our dispensary and get CBD and get something that's not going to get you addicted, or make you steal from your family and hurt people, and not do good in the community."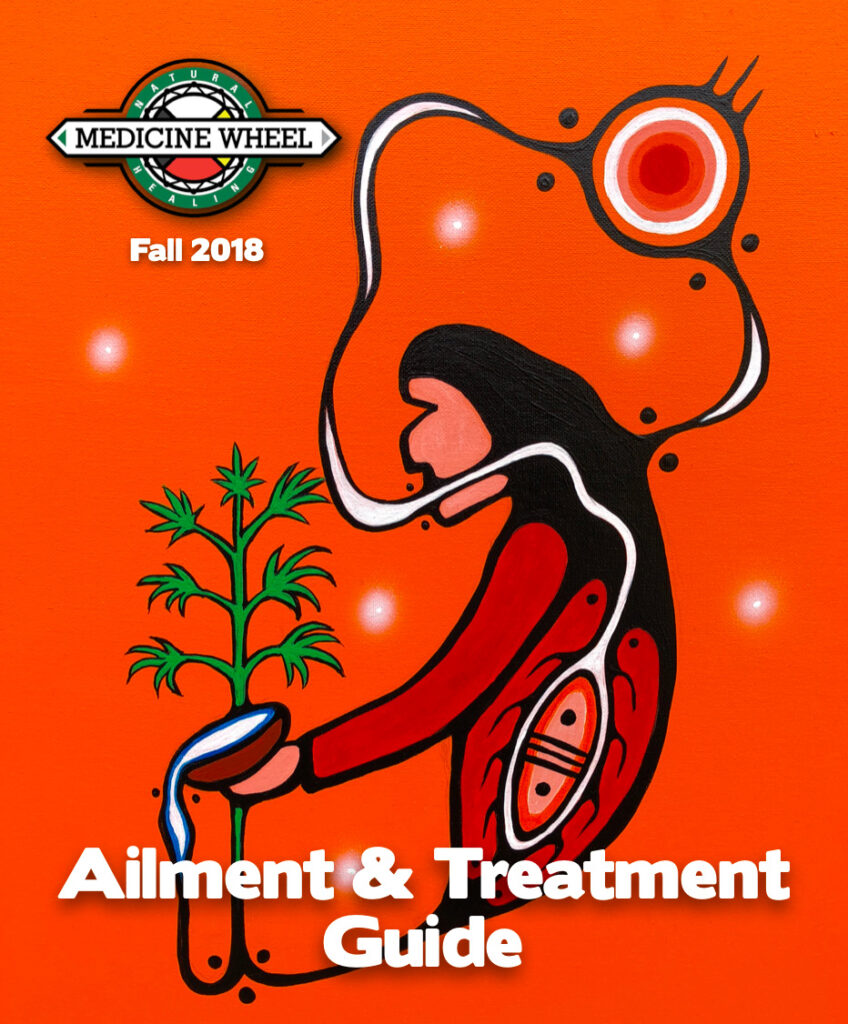 For more information about healing with cannabis, Medicine Wheel has produced an Ailment and Treatment Guide that synthesises the company's medicinal knowledge and recommends specific product lines for treatment of over 20 different ailments.
For more information about Medicine Wheel, or to shop online, visit www.medicinewheel.ca. The Alderville storefront is located at 8986 Hwy 45, Roseneath and is open from 9am to 7pm. The Ottawa location can be found at 196 Beechwood Ave. in Vanier, Ottawa and is open from 9am to 11pm. For information about local deliveries in Ottawa, call 613-745-7333.