Awareness and education surrounding illicit tobacco in Canada can reduce the impact on public health
From The National Post by Joanne Peters, Postmedia Content Works August 3 2022
This story was created by Content Works, Postmedia's commercial content division, on behalf of Rothmans, Benson & Hedges Inc.
The trade in illicit tobacco is a growing global phenomenon, and what may surprise many Canadians is that this country is an active player in the manufacturing and distribution of contraband cigarettes. The staggering financial loss to taxpayers is just one of the consequences of illegal tobacco. The human cost is much higher.
"Illicit trade in the tobacco industry is not a victimless crime," says Danny Fournier, former Quebec Provincial Police officer and manager of Illicit Trade Prevention at Rothmans, Benson & Hedges. "It threatens public safety and brings danger to communities."
Contraband tobacco refers to cigarettes that do not comply with Canada's tobacco regulations. Because they're not taxed, they're significantly cheaper on the black market than cigarettes sold by licensed retailers.
Federal and provincial governments in Canada lose approximately $2.1 billion annually in tax revenues to illegal cigarettes. "That lessens the amount of money that goes to public services," says Fournier, who often provides expert witness assistance in criminal cases related to illicit tobacco and organized crime.
What's more, there are 175 criminal gangs involved in Canada's contraband trade, according to the RCMP. This industry funds other illegal activities, including guns, drugs and human trafficking.
Consider the outcome of Project Cairnes, a project by Ontario Provincial Police that began in 2018 with an investigation into the trafficking of contraband tobacco from a manufacturing facility operated on a Six Nations Territory. Tobacco was being assembled into contraband cigarettes, which were then trafficked throughout parts of Ontario and Canada, including British Columbia, where it was sold on the street.
Investigators uncovered drug trafficking networks that were responsible for weekly shipments of illicit cannabis worth millions of dollars from B.C. to Ontario. The trade of tobacco for cannabis helped criminals cover their tracks, without vast sums of money exchanging hands.
In June 2020, the project led to the seizure of handguns, ammunition, cocaine, fentanyl, a cocaine press, cash and other items. Ontario Provincial Police charged 16 people with a total of 218 charges, including conspiracy to commit murder, firearms possession, drug trafficking and driving-related offences. One of the persons indicted with contraband tobacco related charges in Project Cairnes was murdered earlier this year in Toronto.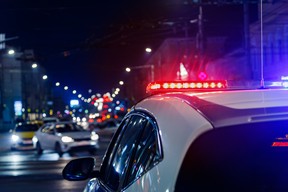 "We have seen a build-up in violence over the past 10 years," says Fournier. "When you look at drug busts at points of sales, you often find organized crime is also involved in methamphetamines, ecstasy, cocaine and cannabis as well as contraband tobacco. Every time this happens, it brings violence to communities. Organized crime uses contraband tobacco to fuel other crimes."
There has also been a shift in the illicit tobacco trade in North America in the last two decades in terms of manufacturing and sourcing, Fournier says. In the past, finished illicit-tobacco products from the U.S. crossed the border into the hands of criminal organizations to be distributed nationwide. More recently, tobacco as a raw material is being sourced out of the United States and supplied to illegal manufacturing operations here.
"Like any other illegal activity, organized crime has a good grasp on this," says Fournier.
There are 50 illegal tobacco manufacturing plants and about 300 illegal smoke shacks in Canada, while one in three cigarettes in Ontario are contraband. Ontario has the second worst contraband-tobacco problem in the Americas, with volumes on par with El Salvador.
A lack of awareness and education surrounding illicit tobacco further harms public health. Contraband cigarettes are easily accessible and far cheaper than legal products, making them more appealing to people across the country, especially those living on low incomes or who are otherwise underserved. It also makes it more difficult to eliminate cigarettes. In order to make better alternatives available to the millions of Canadians who smoke, it is important to ensure that there is no place for illegal operators fueling the black market with illicit products, says Fournier.
Another risk to public safety lies in illegal cigarettes not having a "LIP" band or low ignition propensity material. This band is an added safety feature to the paper body of a cigarette and is regulated by public health agencies to prevent a cigarette from continuing to burn if it's left unattended. Careless use of contraband cigarettes is a leading cause of fires, injuries and deaths. Between 2014 and 2018 in London, Ontario, four out of five smoking-related deaths were directly related to contraband cigarettes.
The manufacturing and distribution of illicit tobacco also hurts everyday Canadians who make their living running small retail shops that sell legal products as part of their day-to-day business.
People can help diminish the illicit tobacco trade in Canada by reporting any related activities to local police, including through Crime Stoppers, which provides people with the opportunity to share information anonymously.