This is the second major expansion for the popular Oneida Cannabis Store since its November 2018 opening.
ONEIDA – Troy Antone, owner of the Oneida Cannabis Store (OCS) held a grand opening celebrating the latest incarnation of his business on September 26th. Located at 1984 Fairgrounds Road on the territory of the Oneida of the Thames near London, Ontario, the OCS is a bright and inviting presence in a community filled with Indigenous cannabis dispensaries.
According to Antone, "People like coming here, they feel safe, it's well lit, there's nice scenery here. It's not very rushed, people come in, they leave, if they want they can sit in the shade and smoke a joint." On September 26th, hundreds of loyal customers did just that as they joined Antone for a celebration to mark the opening of a brand new home for the OCS on his property. Delicious food was provided from celebrated Stoner Chef Inc. CEO Danny Raposo, and Indigenous political icon Del Riley, the former leader of the National Indian Brotherhood, and author of Sections 25 and 35 of the Canadian Constitution addressed the crowd as an honoured guest speaker.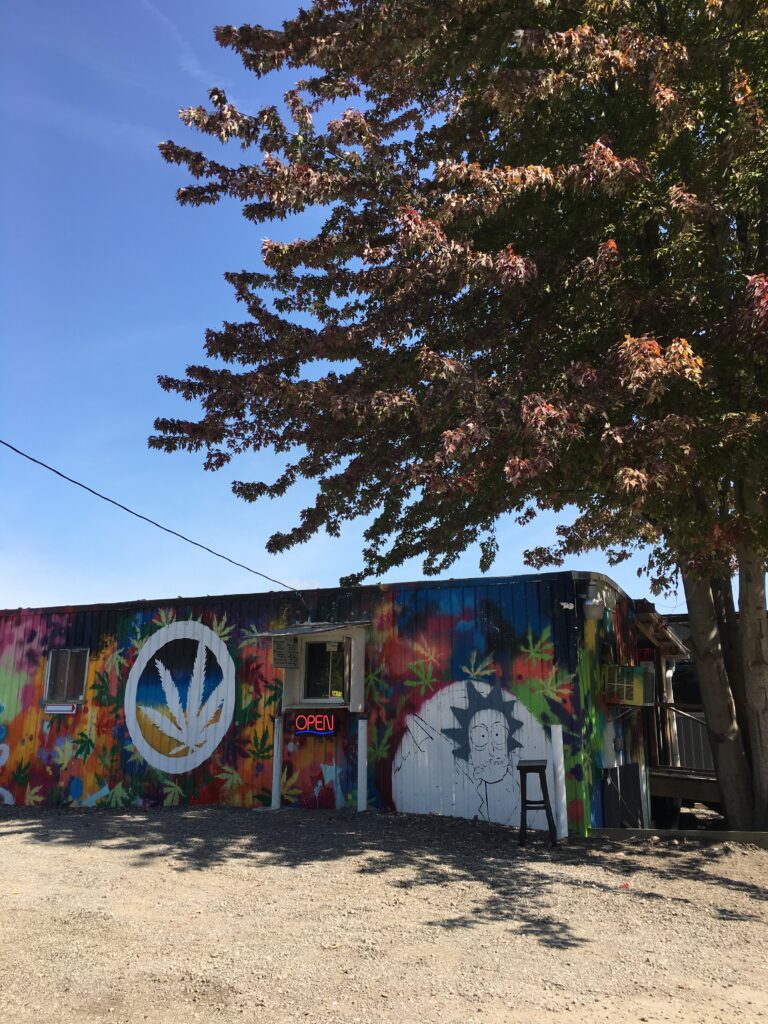 Starting from humble beginnings
Antone started his business in a small shed, and with a lot of hard work, turned a small investment into a big expansion. Over the last two years, the OCS has expanded significantly and now features two large retail spaces with multiple display cases. "I rented this small shed two years ago, we started out with 10 jars, 2 ounces in each jar. I was struggling, I had the smarts to be a business owner, I just didn't have the equity, but all along marijuana was my equity." Beginning the business with just himself and two friends, Antone now employs a dozen people and his store is a popular cannabis destination point in the area.
Learning from his past experiences of selling tobacco, Antone transferred his knowledge to the cannabis industry. "I took the smoke shop concept and put it in a shed with the marijuana/cannabis concept of a dispensary and I just decided that a nice shack/hut would be perfect." He said the shack is great to start out with because it is "easy to contain and manage your products… but once you get bigger you need more room to build."
The new store sits directly in front of Antone's residence, the latest expansion only steps from his front porch. "This is my home, I was born here in 1981 — I've never left."
Like many Indigenous dispensary owners, Antone has a strong will to improve his community and to help the people to get more economic opportunities. Antone's other major concern is the fact that a nearby dump taking Toronto's garbage has been the bane of Oneida residents for some time. Antone said he wanted either "some kind of air filtration, or possibly shutting it down in the future because at this rate [the smell] is not something that we can live with."
Giving back to the community
Oneida Cannabis Store has been giving back to the community since it opened. Soon after the business started, they purchased a $300 bat for the local baseball team and donated $700 in change to the local women's shelter. The store gave $1000 to an underprivileged youth to purchase hockey equipment, gifted $200 to help a young couple get married, and even donated money to the Oneida of the Thames Kickstart program.
Antone's community spirit and desire to do more led him to create the Oneida Cannabis Store in the first place. "That's why I started the business, I was tired of being suppressed, held down. I couldn't make any money, I was working in London, working at factories, I did landscaping, I've done everything under the sun." Eventually Antone found himself moving into the business world. "It started with 'manage this,' 'book that' business was my calling, and eventually I had smoke shops of my own."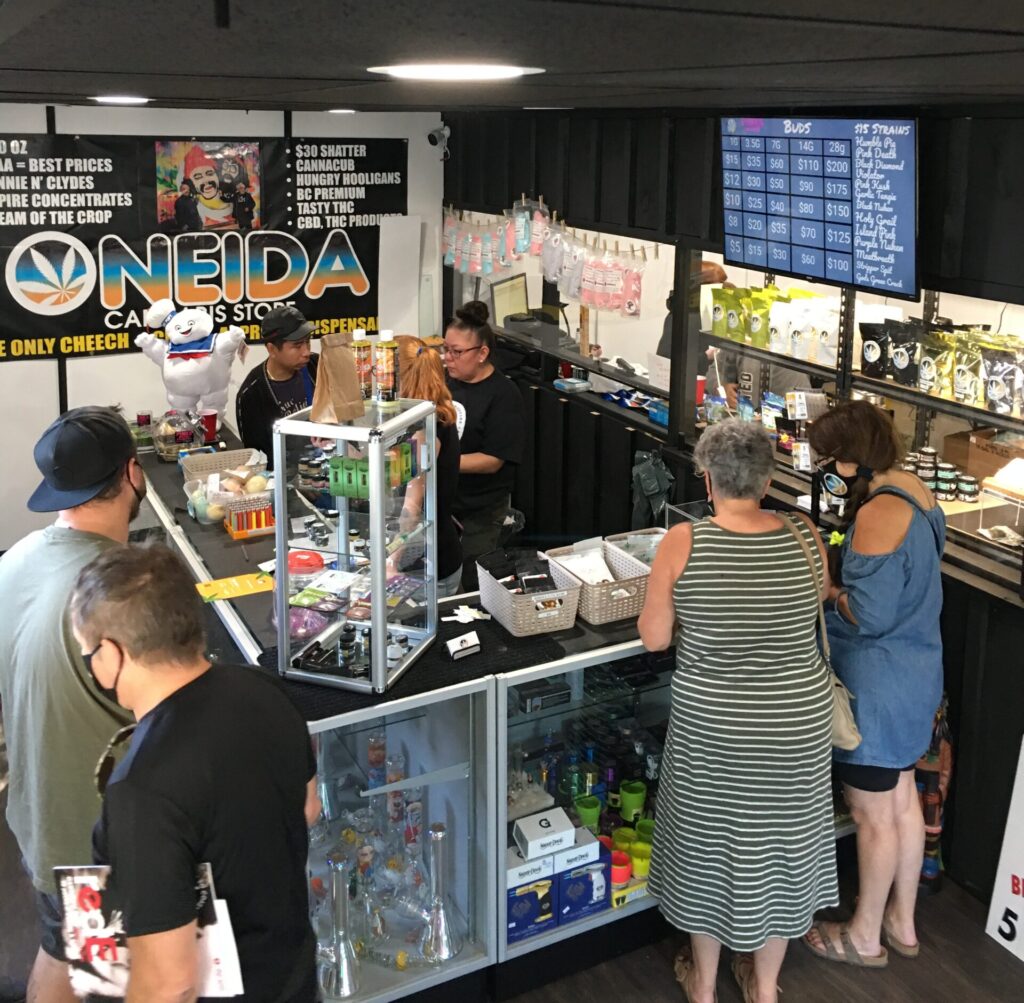 A key value of the Oneida Cannabis Store is consistency. "I've been carrying the same products since I've opened," Antone explained. "The marijuana is always fresh, everything gets tested. We'll even go above and beyond for our customers. We'll take orders for exotic strains and we'll go out and find it for them if we can."

On the day of the grand opening, food tents and picnic tables were set up and people enjoyed food and music under the clear blue sky. Games of chance were enjoyed, music blared over loudspeakers, and the G.I. Joe character Snake Eyes and the X-men's Wolverine also made an appearance. Chief Del Riley, the former leader of the National Indian Brotherhood and the author of Section 25 and 35 of the Canadian Constitution was on hand to make a presentation about the Indigenous right to cannabis.
People were encouraged to gather outside as staff and customers were respecting COVID-19 measures. Antone points out that the Oneida Cannabis Store moved quickly to address the pandemic. "We turned the drive-thru into doing deliveries, we started turning away large crowds and using thermometer guns well before it became common in Ontario." As construction continued, Antone added a wheelchair ramp and the Oneida Cannabis Store is now fully accessible.
As he expanded, Antone was able to build an improved retail experience. 'We got all brand new showcases, we had some more money this time so I decided to go a little bit bigger. I didn't blow all my money on everything, but I made sure I budgeted very well. Everything is brand new this time around."
Cheech and Chong with their mural at the Oneida Cannabis Store.
Cheech and Chong Approved
The OCS rose to prominence in 2019 when Cheech and Chong came to visit. Antone explained how he and one of his employees were talking about getting Cheech and Chong to visit the store while they were in London for a show. "Finally we got a hold of Paris Chong, she called us back, we set up the deal, made sure it was enough for Cheech and Chong to come out and they came out. They endorsed us very well."
"I sat one on one with them, we smoked a joint with them" Antone beamed. He proudly showed Dispensing Freedom a pound of weed signed by Cheech and Chong. "I will never get rid of this, not many store owners can say they have a pound of weed signed by Cheech and Chong."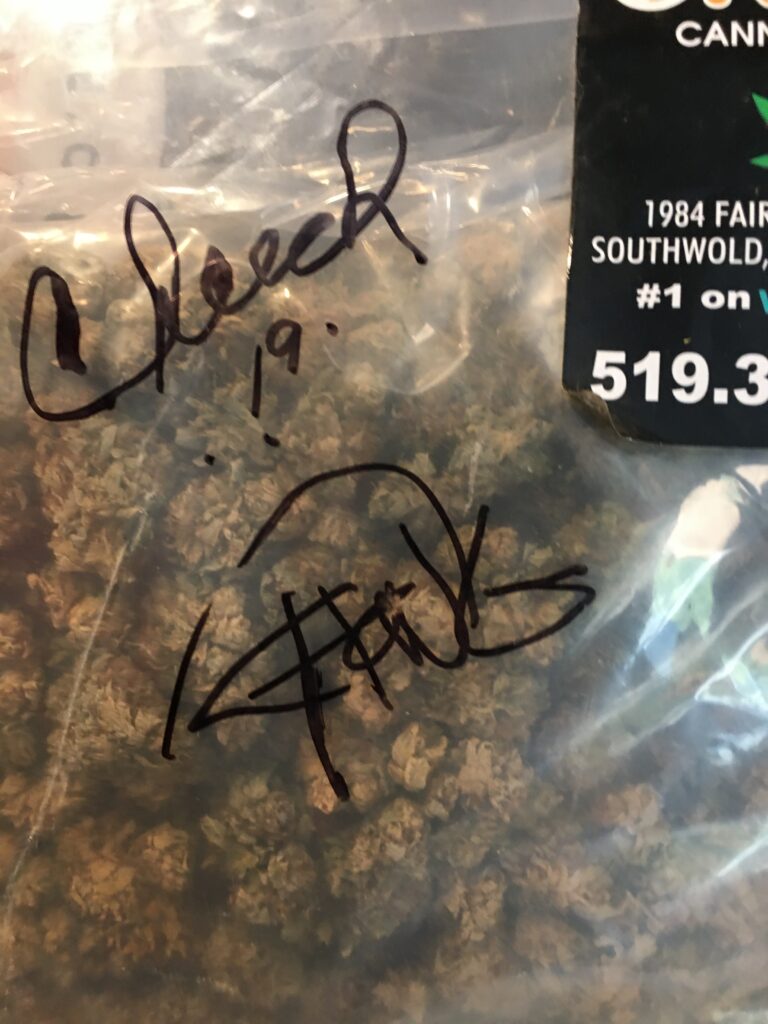 It was ten months between the OCS opening the shack and their first expansion. It took another ten months after that they expanded again. The new expansion includes a large custom-designed retail space featuring wall-to-wall display cases and flat-screen televisions displaying menus and the latest deals. Large windows opposite the display cases let in natural light and create a bright, welcoming environment. As Antone proudly points out, "As you can see we spent more money this time. We keep moving up in stages."
You can visit the Oneida Cannabis Store online at www.oneidacannabisstore.ca. Their store is located at 1984 Fairgrounds Rd. Southwold, Ontario, N0L 2G0. Hours of operation are: 8:00am – 11:00pm Monday – Saturday; 9:00am – 11:00pm Sunday
Call for more information or request local product delivery at 519-652-5153.