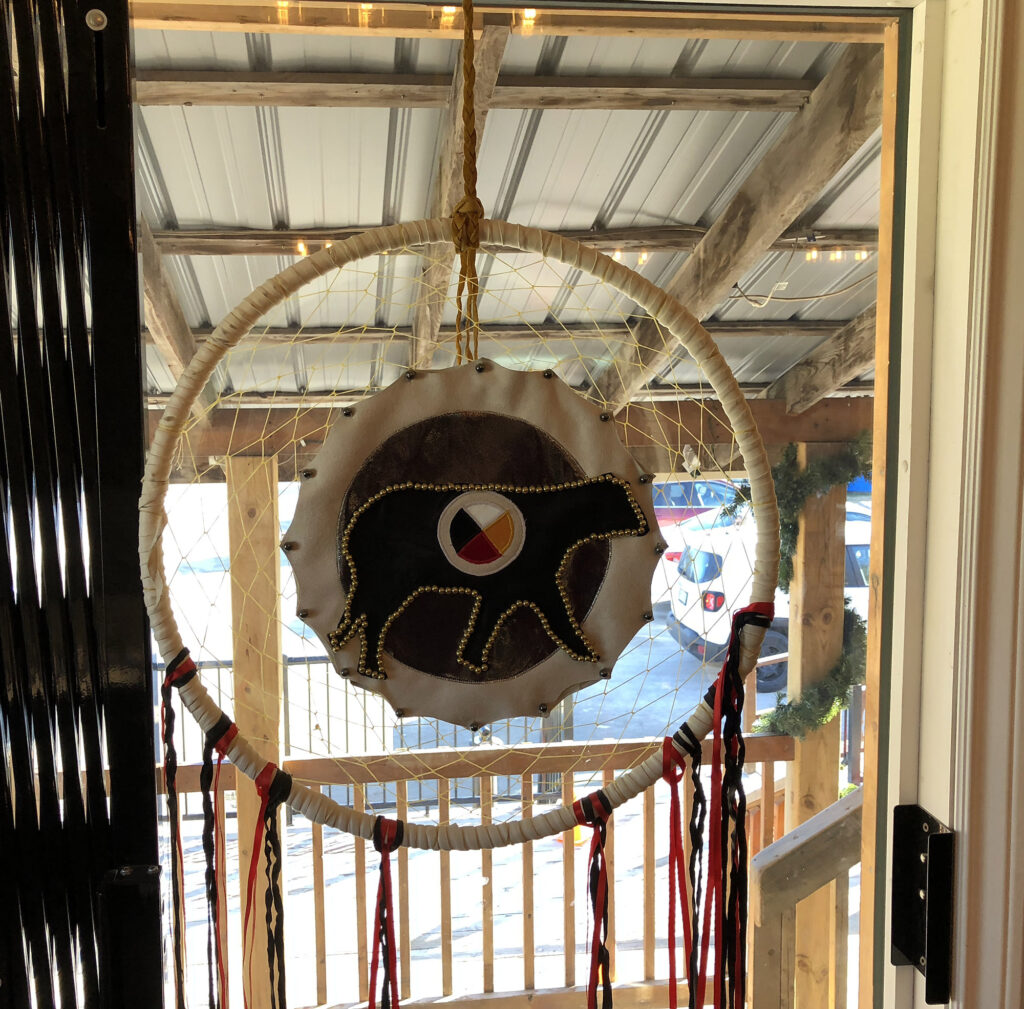 Medicine Wheel was the first cannabis dispensary to open on Alderville's "Mashkiki Trail" or "Green Mile." It is a state-of-the-art dispensary, testing site, and production facility established by Alderville First Nation member Rob Stevenson. Inspired by the growth of cannabis dispensaries in nearby Tyendinaga Mohawk Territory, Medicine Wheel opened its doors on June 21st, 2017.
From the start, Medicine Wheel focussed on high-quality medicinal products provided by a knowledgeable and highly informed staff. Expecting his clientele to be predominantly younger enthusiasts of the "cannabis culture" type, manager Brent Morrison remembers being shocked on opening day. "The people who were coming into the store defied the cannabis stereotype," Morrison remembers. "Our average clients are in their mid 50s and looking for a safe and reliable source of cannabis to treat their illnesses."
Nor is the store simply selling cannabis flower. Soon after it was up and running, Medicine Wheel was selling over 40 varieties of cannabis flower and upwards of 200 other cannabis-related products – including tinctures, extracts, ointments and salves.
Medicine Wheel's new expansion
Medicine Wheel's rise has been a case study in the potential and energy of Indigenous entrepreneurship when matched with the dynamic possibilities of the cannabis industry. Rooted in Alderville as a family business located on reserve, the Medicine Wheel staff has expanded to over 30 employees, and is now preparing an ambitious program of growth and expansion to compete in the new era of Canadian cannabis legalization. Broadly speaking, the new initiatives being prepared by Medicine Wheel fall into four categories: communications and education, looking after the people, community organizing, and new products and services.
Treating Ailments through Communication and Education
With cannabis facing over 100 years of stigma and politically-motivated persecution, one of the biggest issues facing the cannabis industry is education. Consequently, Medicine Wheel has prioritized a multi-pronged educational approach to reach current and new customers alike.
Eschewing the "recreational" framework of the Canadian government, everything in Medicine Wheel's approach comes from a medicinal focus on cannabis. Before purchasing any products, all clients of the store must fill out a form identifying their medical need for cannabis, and all new members receive a 44 page "Ailment and Treatment Guide." The guide explains dosage and safe use of cannabis and provides an overview of how to treat over 20 different illnesses with cannabis. The guide also includes articles about how to treat pets with CBD, methods of "microdosing" cannabis, and the effects of different cannabis terpenes.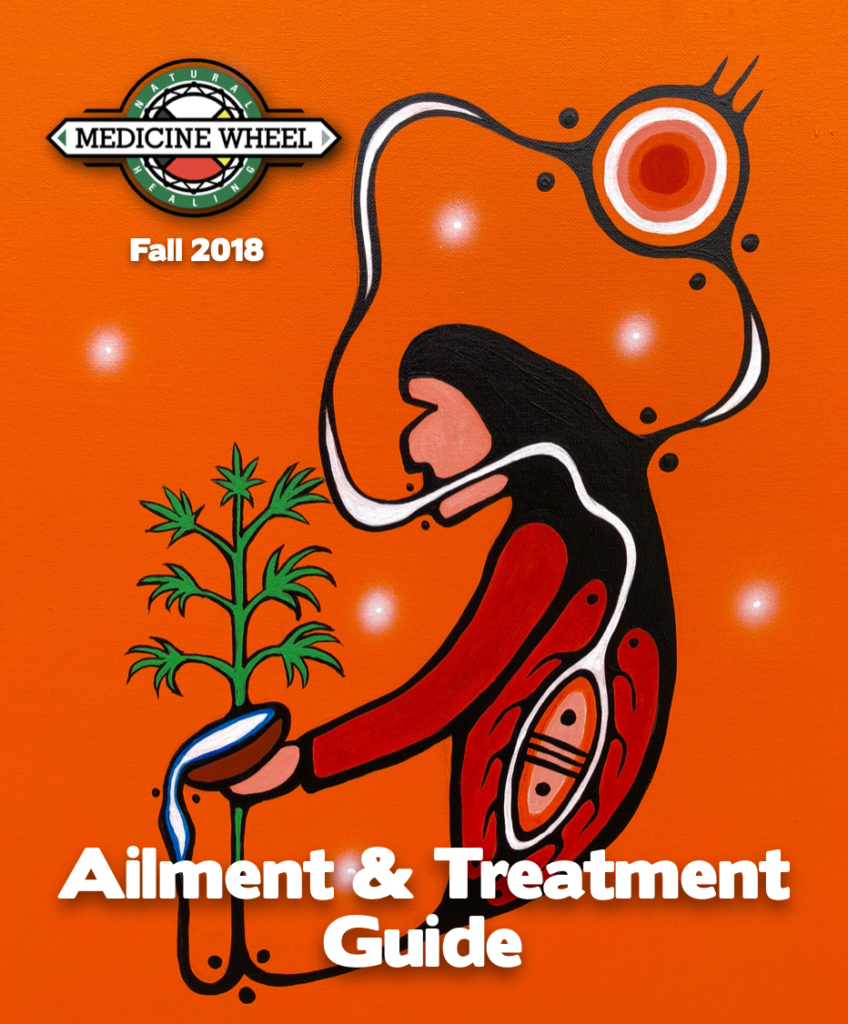 According to Stevenson, "as we collect information from our clients, we're seeing why people are using cannabis and what ailments they're treating with it. This guide has arisen from our need to clearly explain the ways in which cannabis can help to address serious medical issues." The guide has been developed by Medicine Wheel staff using in-house market research and the latest scientific and medical literature on the plant.
Another of Medicine Wheel's major concerns has been to address the question of how to talk to children about cannabis. After generations of state-sponsored indoctrination that painted cannabis as a negative and harmful "gateway drug," Medicine Wheel came up with a children's book to help parents talk about cannabis with their children. Titled Robbie Ladybug and the Mashkiki Patch, the book explains both the positive and negative aspects of cannabis use to children.
The origins of the book came from a dream that Rob's mother Charlene had of two ladybugs living together on the leaf of a cannabis plant. Ladybugs are a species of insect providing helpful, natural pest control in place of industrial pesticides. The story follows the lady bugs dealing with the stigma they face from other insects due to their line of work in the cannabis patch.
Like Medicine Wheel, this literary endeavour was a family effort. Rob's mother-in-law Miriam Terry worked with Charlene to write and illustrate the children's book. The book succeeds in not only helping children to learn about cannabis, but in creating a space for parents to have a dialogue with their children about the plant.

The other major effort around communications is the building of a progressive web application to take the place of Medicine Wheel's website. The new Medicine Wheel App will work seamlessly on mobile devices and desktop computers to display multi-media content related to all the products and services available at Medicine Wheel.
The core function of the App is a method of self-diagnosis based on the Medicine Wheel. Clients identify the nature of their ailment – be it affecting their mind, body, spirit, or emotions – and click through a medicine-wheel-based "drill down" menu to receive advice and appropriate product recommendations for their needs. The App will carry suggestions about diet, exercise, and lifestyle choices along with product information and a guide to what's currently available in the store. To help increase store efficiency, the App allows customers to place online orders at the store and then to pick up their order in an express line at the store.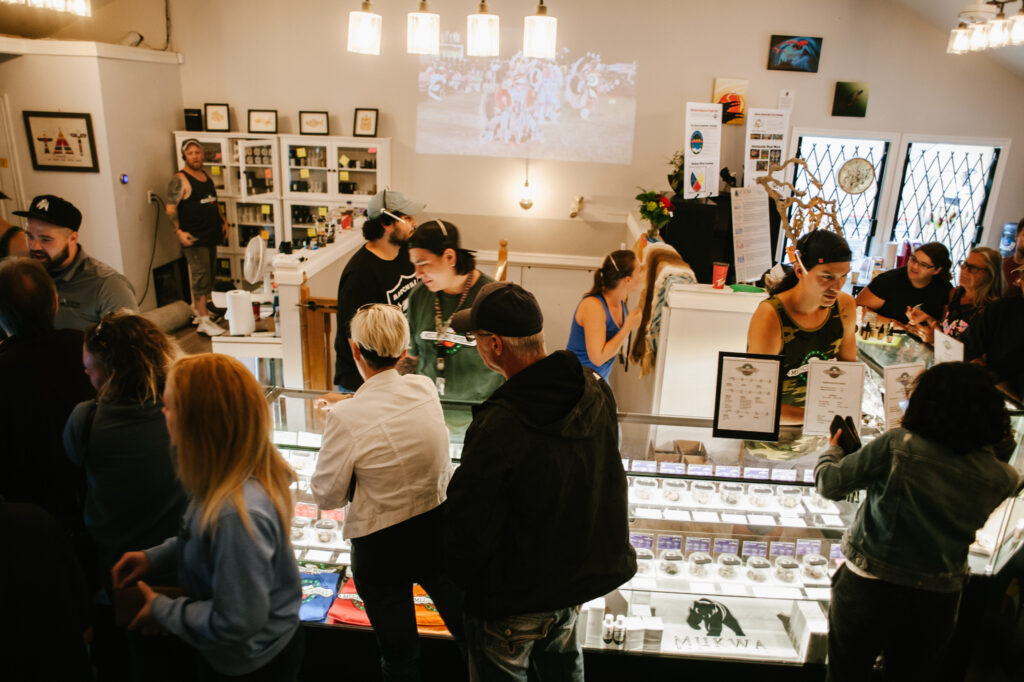 Looking after the people
From its inception, Medicine Wheel has viewed the cannabis industry as much more than a means to make money. As Rob Stevenson puts it, "this is about our whole way of life as Indigenous people. We're trying to build an economy that increases the ability of Indigenous people throughout Turtle Island to self-determine and prosper."
At the core of the Medicine Wheel business model is an unwavering commitment to high quality customer service. As such, Medicine Wheel's staff are crucial to the success of the operation. Stevenson believes that the best way to attract and keep top talent is to compensate individuals who are committed to upholding the core principles of the business. Medicine Wheel employees get annual paid vacation, sick leave, and starting in November 2018, health benefits. Stevenson is calling his health benefits plan the Medicine Wheel Healthy Living Account, because it doesn't just compensate employees for conventional medical and dental expenses, but also includes activities like sports and arts and culture.
"The Medicine Wheel Healthy Living Accounts represent yet another step in my goal to provide as many supports as possible to people looking to live happy and healthy lives," says Stevenson. "If someone is showing initiative to help themselves, their family, and their neighbours live happy, healthier lives, than that is someone I want to work with and that is someone I am comfortable representing Medicine Wheel on my First Nation and to the company's members."
Another aspect of looking after the people is to provide quality medicines to patients who can't afford the full cost of their treatment. Medicine Wheel has developed a compassionate pricing system so that people who genuinely need cannabis-based medicines but can't afford them can apply for subsidized products.
Some clients require greater consultation and support for their special needs or are unfamiliar with all the ways that cannabis can help them with specific health problems. To provide a private space for client support and consultation, the former True North seeds building on the Medicine Wheel property is being converted into a consultation area. New members to the Medicine Wheel will register in this building, and will have the opportunity to have one-on-one consultation to tailor a specific treatment. Existing customers who are looking for more information about using cannabis and making positive lifestyle changes will also be invited to use the consultation resources.
Community organizing in Alderville
On the broader community level, Medicine Wheel has also been very active. The biggest efforts in this regard have gone into the formation of the Mississauga of Rice Lake Cannabis Association and the creation of the Alderville Cannabis Survey. Reaching out to community members and getting accurate feedback and information from the community are central to ensuring that the industry does what the people want. The full results of the survey will be released to the public and forwarded to Band Council on October 15th, 2018.
The biggest issue on the agenda of the Mississauga of Rice Lake Cannabis Association is the thorny issue of determining how to collect and administer a "Community Contribution Fund" from those profiting from the cannabis industry on reserve. The survey will help to decide what community needs should be addressed with the fund, and the next quarterly Association meeting on December 15 will finalize the establishment and administration of the Fund.
As it now stands, the testing facilities of Medicine Wheel and the Healing House have agreed to donate $10 per test to the fund. Plans are also in the works to come up with a special child-proof exit bag for all products sold by Association members. A fee would be charged to each customer for the reusable bag, with the proceeds going to the community fund.
Cannabis and Women
There are a lot of cannabis stigmas that need to be broken, and at the top of Medicine Wheel's agenda is bringing a stronger focus to cannabis and issues affecting women. As a result, Medicine Wheel is proud to announce a monthly women's night with special programming and services available to women. As manager Melanie Marsden points out, "we want to do our part to try and change the cannabis stigma as it affects women. We need to show that there are all kinds of different ways that women can benefit from cannabis products. We have specific product lines including facial scrubs, moisturizers, creams, as well as products for treating menstrual cramps and PMS."
In the new era of Canadian legalization, Stevenson thinks that there will be an influx of women consumers to the industry. That makes it all the more important for Medicine Wheel to take positive steps to support and acknowledge women. "In Indigenous culture, women are held in high regard as the life givers. Men have to do ceremony. Women are ceremony. They have their ceremony once a month. We want to acknowledge that and show our respect to women. By developing product lines specifically geared to women and by holding women's specific days, we're acknowledging our women and making them feel more comfortable with using the cannabis products in our store," says Stevenson.
On women's day at the Medicine Wheel, the sales staff will be all women, and there will be special activities, product showcases, and educational displays and events. As Melanie Marsden puts it, "It's not about getting high. It's about getting healthy. Men will be welcome on those days too. But women and women-identified people will get a 10% discount on those days."
Language program
A crucial aspect of the Indigenous revival across Canada has been a focus on learning and teaching Indigenous languages. The Canadian residential school system was designed to systematically remove indigenous peoples from their culture and languages, and Medicine Wheel is playing its part to help recover from the damage.
Every Saturday morning Medicine Wheel staff gather at the office for a weekly Ojibway language class taught by Keith Montrell to learn more about indigenous culture and language. As Stevenson says, "we're working on encouraging the growth of our culture. A big part of the culture is the language. By interacting with each other and our customers, and by using our own language and Ojibway names for our products, we're making more people aware of our culture and ensuring that it will continue."
The language program not only helps Ojibway people reconnect with their culture, but also opens up opportunities for learning and reconciliation with non-native people coming to the store. According to Stevenson, "even simple efforts like having an Ojibway "word of the day" display offer opportunities for cultural exchanges in the store that allow non-natives to contribute to the process of reconciliation in a small way."
New direction and product lines
Funded by the profits of the cannabis economy, Medicine Wheel is investing in building the physical, cultural and social infrastructure needed to serve the community and to make Alderville a regional hub for cannabis and wellness tourism.
However, in order to remain successful and to accomplish its larger social mandate, Medicine Wheel has to remain profitable, and continue generating the resources to support its staff, benefit the community of Alderville, and empower the larger movement for Indigenous self-determination. That means being able to read the changing economic situation, as non-native Crown-approved cannabis is about to become legal on October 17th. While there won't be competing off-reserve bricks and mortar stores in Ontario until April of 2019, the new privatized model put in place by the Ford government will undoubtedly mean an increase in competition.
But Stevenson is feeling positive as the October 17th legalization date approaches. "I'm feeling very good" he says. "I'm looking at all our projects and all the good we're doing. That's giving me some reassurance. We're doing a lot of good for our community and our staff, and that's reducing my stress levels."
Stevenson believes that with legalization will come a big influx of sales. Already, the store is getting between 200 and 250 new customers a day, and the numbers are going up. Stevenson foresees that Indigenous dispensaries will do well until competition comes from brick and mortar stores in April. Already key retail locations are being bought up for cannabis stores in Cobourg, the nearby town to the south. But Stevenson is not afraid of the new reality. "I think competition is good," he says. "It keeps people honest and it motivates us to do better moving forward."
One of those directions that Stevenson wants to move towards is the edibles market. At a newly purchased property on reserve, he's building an industrial kitchen and bakery. The bakery will be fed by the extraction process, to which most of Medicine Wheels outdoor grows are destined.
The addition of new productive capacity means higher profit margins on economies of scale, more local employment, and an ability to create value-added products. One obvious place for growth is the edibles market. "We're going to create our own line of health-orientated edibles. They'll contain less sugar and be made from organic all-natural ingredients, and we'll have vegan and gluten-free options. Each edible will be strain-specific so you'll know exactly what's in it and what it will feel like to consume it. You will have a consistent experience in terms of dose and effect each time you consume one," says Stevenson. The edibles will also be sold in special child-proof containers with appropriate warnings.
Medicine Wheel is also planning to package its edibles based on their level of effect. Edible usage will be connected to the consultation process where all patients will be informed about the best safety precautions. And if a negative reaction occurs from "greening out" by having too much of an edible, Stevenson wants to have each edible come with a CBD capsule that can be used to clear users' minds and help them calm down.
The main path for success seen by Medicine Wheel lies in the creation of a vertically-integrated business keeping all aspects of the cannabis plant, from seed to sale, in Indigenous hands. This entails co-ordinating all the moving parts of the Smoke Signals Seed Bank, the building of new greenhouses and the planting and harvesting of outdoor grows. It also involves the running of an industrially-sized extraction laboratory, the creation of an industrial kitchen and bakery to mass-produce edibles, and the necessary quality control, logistics, and testing equipment to ensure patient safety.
Because of the coming competition from Licensed Producers (LPs) backed by hundreds of millions of dollars of venture capital, Stevenson expects a sharp drop in the profitability of the industry, especially in the sale of cannabis flower and oils. Already a number of LPs are working on plans to import cannabis products grown in Uruguay, Jamaica, and Columbia.
This has meant a focus on investing in the extraction and testing equipment that can allow Medicine Wheel to produce its own oils, extracts, and nano-emulsified products. By bringing together talented chefs and the capacity of an industrial kitchen, Medicine Wheel will be able to produce cannabis-infused sauces, salad dressings, energy bars, and many other edibles with a much higher profit margin then they could make selling cannabis flower in competition with the tropical imports of the cannabis multinationals.
The idea is to build a whole new host of Medicine Wheel brands which can not only be sold in Alderville, but also be traded with other Indigenous nations and sold in their dispensaries. These brands will go through the Red Feather certification process that ensures that a given cannabis product was made by Indigenous people, without the use of pesticides and herbicides, and that it has undergone a quality-control testing process. The certification also means that the majority of the ingredients of a given product were sourced and manufactured Indigenously, and that a portion of the proceeds from the sale of the product are returned to an Indigenous community through a voluntary donation program.
The new brand that Medicine Wheel will be bringing out will be known as "Ishkode Mashkiki" – meaning "fire medicine from the heart of the earth" in the Ojibway language. The Ishkode Mashkiki line is now being diversified into concentrates like shatter, oils, rosins, and specialized nano-emulsified products. The aim is to create a top-quality medicine. As Stevenson says "We're taking our time, and we're not going to rush. We have to create the cleanest possible medicine that we can.. With our new state-of-the-art extraction equipment we're getting into new products and specialized terp sauces, resins, and diamonds."
Before purchasing a High Performance Liquid Chromatography machine and Mass Spectrometer, Medicine Wheel couldn't test edibles or MCT-based tinctures. Now with the new lab equipment, "we can test everything, even identify the different traits of each cannabis strain," Stevenson says.
Stevenson wants to have "20 different types of cannabis oils based on the different terpene profiles of the strains. We want to be able to fine tune and match our oils to the needs of our customers. We can tell from the terpene and cannabinoid profile what works for people and then give them a variety of healthy ways to ingest them."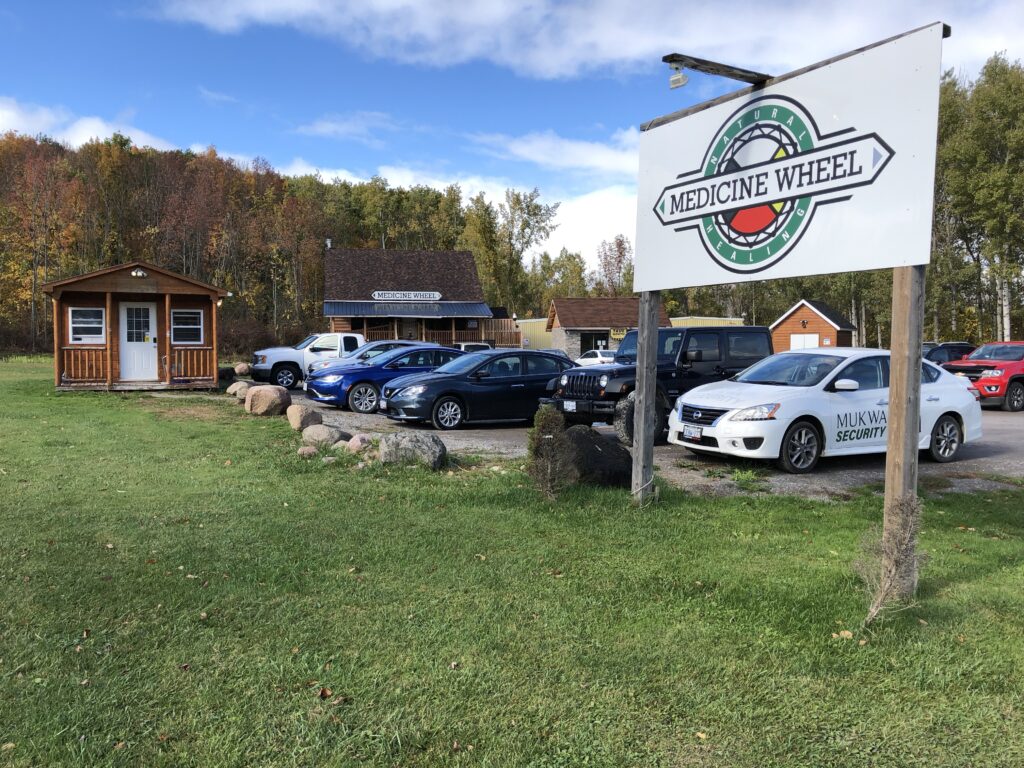 Lifestyle design and wholistic treatment
In this new stage of Medicine Wheel's journey, cannabis is the economic driver for the creation of a whole new variety of healthier lifestyles. As Stevenson explains, "We're diversifying away from the treatment-type focus and working more towards a conscious lifestyle design. It's all about expanding horizons with your lifestyle and changing your life to be healthier in the broadest possible way."
That means a move towards hosting gatherings and seminars and teachings. In this work Rob is working with Cobourg-based lifestyle designer Melanie Woolsey. Woolsey is a yoga therapist and lifestyle design coach who has created and collected a wellspring of effective conscious lifestyle design practices that have been instrumental in her own transformational journey through addiction. Her plan is to expose people to practices of conscious lifestyle design. The programming will be made freely accessible for all Alderville First Nations members, but will also draw paying clients from Toronto to do healing through art and crafts, cooking, baking, language, work in the garden, and daily retreats, all in a cannabis-friendly atmosphere. A building has been purchased to serve as a retreat centre, and as Stevenson says with conviction, "we're going to put Alderville on the map as a destination for health tourism."
While Stevenson acknowledges that there are many treatment facilities in the surrounding area, they don't necessarily do a lot of follow-up and after-care for their patients. This is something Medicine Wheel wants to do to help people deal with lifestyle changes and learn how to better handle their money.
It's all about diversifying the health and wellness services provided by Medicine Wheel, and of continuing to move forward in a good direction.
In that regard, Stevenson can point to the fact that in making over 100,000 transactions to over 15,000 registered members of Medicine Wheel, no one has gotten sick or been harmed by the products he has sold. This shows that cannabis is a far safer plant than the government would have you believe. Not only that, but it illustrates that ordinary people with good intentions and a drive to help others can change the world in some pretty significant ways.
Every day that Medicine Wheel stays open is a benefit to an ever-widening population. Of course the owners and the workers of the store are benefiting from Medicine Wheel's success. And so are the hundreds of patients receiving relief from medicinal cannabis and exploring new avenues of healing and personal growth. The local economy, native and non-native, is thriving from the ancillary effects of the cannabis industry, and money and jobs are staying local.
Another possibility that shouldn't be underestimated is for the cannabis industry on reserve to facilitate reconciliation – a hot topic in Canada these days.
As Brent Morrison puts it, "I've learned a lot from relating to indigenous people in this work. I didn't learn much in school about this reality. I've always been a sympathetic ally, but now I'm much more passionate about it. I feel like Native sovereignty is a real thing that should be actively enforced. And I think the Canadian government should 100% respect Native sovereignty over any business activity or foreign investment that might interfere with that."
Such an understanding seems logical and second nature to Morrison, and the reason is clear. It's a no-brainer for everyone involved that the sovereignty being expressed by the people of Alderville in running and self-regulating the cannabis industry on their own terms has improved the lives of everyone who's come in contact with it.
Morrison continues, "pretty much everyone who comes to the store leaves with a positive experience. They're coming to a nice warm friendly dispensary with knowledgeable staff, the majority of whom are native people. They're having this interaction and leaving with a positive feeling. And it's producing a positive relationship dynamic. For example, people are looking at the art we have in the store and asking questions. And we send them out to local art galleries and native businesses where they can see and purchase other art and connect with the culture through that experience."
The indigenous cannabis revolution is putting down strong roots in Alderville First Nation. And with this kind of success, we should not be surprised to see its example spread to other First Nations too.
Medicine Wheel Natural Healing is located in Alderville First Nation at 8986 County Rd. 45 Roseneath K0K 2X0 just off of Highway 45, near the town of Roseneath. They are open 10am-8pm, Tuesday through Sunday and closed on Mondays. You can call us at 905-352-3322. The full Medicine Wheel menu is available online at Leafly.com