From anishinabeknews.ca link to article by Jennifer Pereira, Oct 19 2018
PICKEREL—"I don't believe we're ready at all. A few communities have put a moratorium in place and one community is looking at doing something in favour," stated Anishinabek Nation Grand Council Chief Glen Hare in response to the legalization of marijuana and what it means to First Nations.
The federal cannabis legislation came into effect on October 17, 2018. Cannabis policies vary right across Canada and Anishinabek First Nations are no different. Rules and protocols in the First Nations are as diverse as the First Nations themselves and enforcement issues are tricky.
Shawanaga First Nation Chief Wayne Pamajewon said in a telephone interview that his community placed a moratorium on potential marijuana shops until the community has had a discussion and voted on the issue.
"We want to ensure we have done consultation and look at all the positive and negative of this," he said. "There might even be some who are interested in opening a shop."
Nipissing First Nation is also putting the federal legislation on hold. Chief Scott McLeod echoes the Grand Council Chief Hare.
"We feel the government dropped the ball as far as making room for First Nations to look at the legislation. We've had no resources or time. Leadership put the brakes on and sent a notice out to our community. We will not be issuing [business] licences until we are fully aware."
The Anishinabek Nation held a gathering earlier this year in Sudbury, Ont., to discuss the Cannabis legislation and issued a Cannabis Report. The report indicates the governments of Ontario and Canada's willingness to assist First Nations with economic development issues, public health and public education.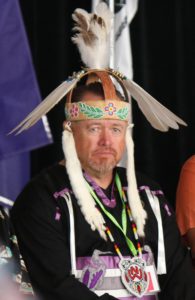 Nipissing First Nation Chief Scott McLeod

"Health Canada spoke about opportunities for applicants and licenced producers with Indigenous affiliations. They said there is support of economic development opportunities in Indigenous communities, including the emerging legal cannabis market. They indicated the scope of Indigenous involvement can vary between licenced producers and applicants."
If a referendum in Shawanaga First Nation turns out to be in favour of adopting the legislation, Chief Pamajewon doesn't rule out growing the weed.
"There might be an opportunity for development of a grow-op that could be lucrative for the band as well. I'm hearing from the media that there isn't enough marijuana to go around," he said.
For Ontario's approach, the Anishinabek Nation Cannabis report reads, "The Ontario government indicated its legislation includes flexibility to accommodate on-reserve approaches, allowing ministries to support and enable community-specific approaches on-reserve…that may differ from Ontario's policy and legislative framework."
Both Chief McLeod and Chief Pamajewon mentioned jurisdictional and enforcement issues on-reserve, but an ability to coordinate an approach to the potential licencing of pot shops or dispensaries means enforcement may not be a very large issue.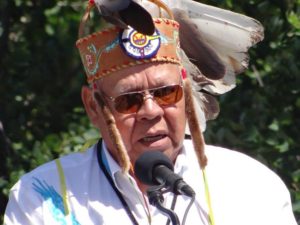 Shawanaga First Nation Chief Wayne Pamejewon. Photo by: Francis Pegahmagabow Commemoration 2016 Facebook page.
Chief Pamajewon said that if the community is in favour.
"We need to craft our marijuana law that will reflect the laws that can be enforced with [the Ontario Provincial Police] or [Anishinabek Police Services] and ensure we have consistent laws with the province."
Chief McLeod had a similar approach.
"We could look at adopting provincial legislation."
There are also concerns that legal marijuana and easier access to it could lead to social issues and community safety. Grand Council Chief Hare's main concern is the children.
"Nobody has said anything about the protection of the kids…Our social problems are already big and this won't help," he noted.
If left unchecked, an unregulated marijuana industry on-reserve could pose a risk to community safety. Chief Pamajewon pointed out there could be increased traffic into the community. And a community law would help mitigate that with approved locations for businesses.
"In a quiet community like Shawanaga, we like to see the colour of the paint job when someone drives by," Chief Pamajewon said.
Regulating the industry on-reserve is important to both Chiefs.
"It's not that the First Nation is against the sale of cannabis, we want to protect the health of community members and have safeguards in place," noted Chief McLeod. "We hear stories of unregulated marijuana. If it's unregulated, there's no quality assurance. As Chief and Council, we have to be responsible and it's irresponsible to forge ahead without knowing all the consequences," he adds.
Meantime, throughout Anishinabek territory, Chippewa of the Thames First Nation has banned the sale of provincial cannabis in their community until they have had a chance to develop their own law, while earlier this year, a few other communities had struggles with what they deemed were illegal dispensaries.
While not opposed to the medicinal uses of marijuana, Grand Council Chief Hare said, "The recreational side is the side that's going to hurt us."