From independent.co.uk link to article by Brad Hunter 14 December 2019
Canada's indigenous peoples are pioneering the billion-dollar bonanza that is the country's growing cannabis market.
The biggest hub is the tiny Mohawk territory of Tyendinaga, about two hours east of Toronto.
On a speck of land three miles wide and 12 miles deep, there are more than 60 cannabis dispensaries selling all manner of products – from pot to THC sweets.
Robert Tehonikonrathe, also known as Fisher, says his people have been wheeler-dealers for centuries. His son owns the Healing Shoppe/Pot Shoppe/Bear Medicine dispensary.
"We're the most capitalistic people in the world," he tells The Independent.
Besides cannabis, the indigenous Mohawks also control a billion-dollar gasoline trade on the territory and also control much of Ontario's tobacco industry.
And when Canada legalised cannabis on 17 October 2018, the seeds of the industry had already been planted in the community.
While the government has set strict regulations on cannabis commerce, it doesn't have any impact on the Mohawks of the Bay of Quinte, who set their own laws.
On a stretch of Highway 2, the landscape is speckled with roadside signs offering specials and incentives. But Tyendinaga is not your typical reserve.
The Mohawks of the Bay of Quinte never ceded their territory to the British crown, and as sovereign people have figured out the cannabis business better than the Canadian government has managed thus far.
"Those guys [the Canadian government] would just screw everything up here," Tehonikonrathe says.
The territory has around 4,000 residents and many are involved in the legal cannabis trade that has triggered a building boom.
The dispensaries have any array of names, like Best Buds, Pot Shoppe, B'Leaf, L'Eagle Dreams, Smoke on the Water, and Legacy 420.
Outside the stores – some bricks and mortar, others converted trailers or mobile homes – is an American shock attack of the silent salesman, aka roadside signs.
Signs offering $12 (£9) THC slushies, deals on grams, customer reward cards, and specials on an arsenal of pot-smoking paraphernalia.
Outside the scores of dispensaries, everything from BMWs, vintage MGs to SUVs, pickup trucks and Toyota Camrys line the parking lots. Some of the stores even offer drive-throughs providing coffee, pizzas and 24/7 service.
On display at the CannaKure dispensary, strains like Sour Patch Kids and Bruce Banner entice a wide array of customers on a recent afternoon.
Jay Quelyn – who like a lot of others in the weed trade doesn't want her real name or picture out there – is a "bud girl".
She will roll your joints, chat with you, and even steer you in the right direction to suit your mood.
"This has brought a lot of money into the community" she says.
But while governments have struggled to understand how to navigate the cannabis industry, the Mohawks have it nailed down.
Government dispensaries run out of product and are too expensive, critics have said. As much as $10 per gram more expensive.
"I would suggest rather than telling us what to do they should be asking us what to do," Tehonikonrathe says.
"Canada is our friend, you are always welcome here, but remember, it is our territory and we are a sovereign people."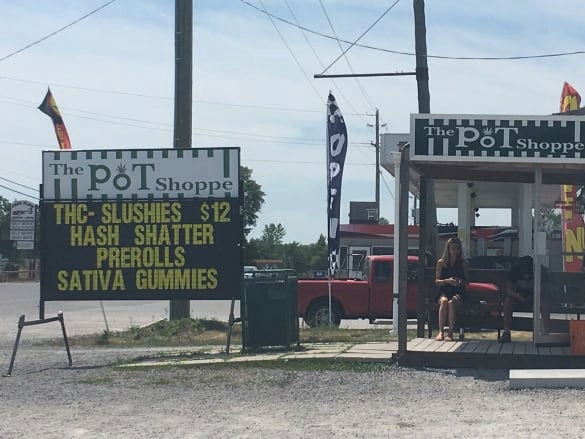 He adds: "All we've ever wanted is for the government to leave us alone. That's it."
According to dispensary owners and other locals, the police merely make courtesy calls to share information, to warn of robberies, or just pop by for a cup of coffee.
Tyendinaga Mohawk police chief Jason Brant said last October that with just seven constables policing the dispensaries would be impossible.
The first gas station on the territory opened in the early 1970s and because there was no tax – much to the government's chagrin – the business exploded.
In the 1990s, the tobacco business also blossomed in Tyendinaga.
"There is more happening here than at any other time in history,"​ Tehonikonrathe says.