From infotel.ca link to article by Ben Bulmer, Oct 2, 2019
ENDERBY – Dubbed 'Greenderby' by one visiting elder, pockets of Splatsín First Nations land around Enderby are quickly becoming the latest hot spot for cannabis stores.
Along with the endless billboards for fast-food restaurants and tourist attractions, just five kilometres south of Enderby new signs appear – letters in neon colours encourage people to 'come on in' to Fort-Wenty Cannabis, a minute later the Five and Dime cannabis store appears just one kilometre from the North Okanagan city.
Tucked down the far quieter Mabel Lake Road, pot leaf flags fly outside the River Bear Dispensary.
Run from a trailer on the side of the road just a stone's throw from Enderby's main street, River Johnson opened River Bear Dispensary mid-August and runs it together with her partner Bear Christian.
A price list hangs on the wall of the cozy store listing an array of different strains of marijuana and glass cabinets showcase everything from oils to capsules.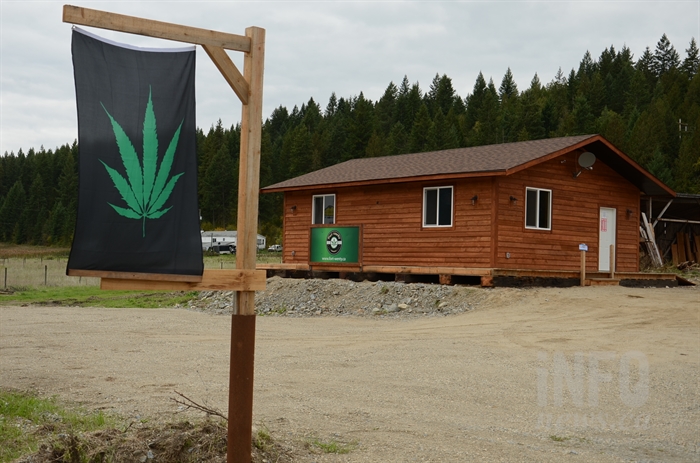 Located in what appears to be a brand new building, Fort-Wenty Cannabis recently opened its doors on Highway 97A outside Enderby.(BEN BULMER / iNFOnews.ca)
"We have great products, (and) we have quality," Johnson says, adding that they sell 28 different strains and should have more soon.
River Bear Dispensary is one of four cannabis stores on the reserve and one of three that have very recently opened.
With cannabis legalization almost a year old, government licenced cannabis stores still very few and far between (Vernon has two provincially licenced stores although 17 licences have been OKed by the City) cannabis stores have been popping up on reserve land as a way of skirting the provincial legislation.
West of Vernon, the Okanagan Indian Band's Westside Road has earned the nickname "the Green Mile" and now boasts two drive-through cannabis stores along with five other pot shops all in close proximity.
Okanagan Indian Band policy analyst Mike Fotheringham told an OKIB community meeting in July that in his research he hadn't found another community that had as many pot shops.
Many of the stores on the Green Mile had previously said they were operating in a "grey zone." While their signs attempted to entice customers in, many were cagey in talking to the media, either refusing on the record interviews or speaking under the condition of anonymity.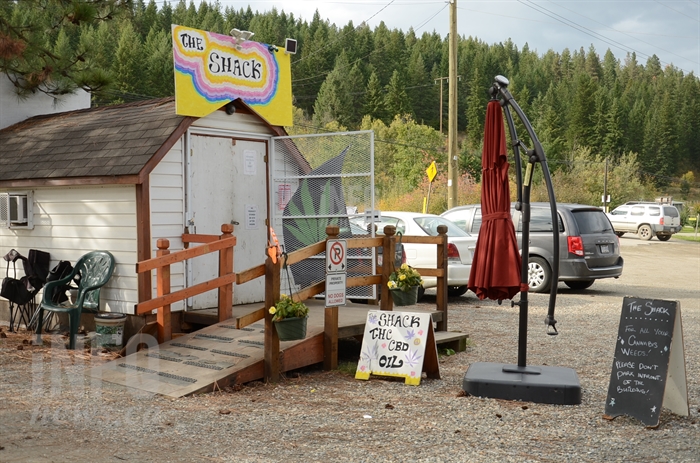 The Shack cannabis store sits on the edge of town at the Enderby Flea Market.(BEN BULMER / iNFOnews.ca)
Refreshingly, Johnson is open about her business and the issue of cannabis stores opening on reserves without provincial licenses.
She also doesn't see the issue of cannabis stores on reserves as "grey."
"This is our land and we create laws for it, not the other way around," she said. "This is (our) medicine, and this is our economic right."
Legally, she may also have a strong point.
At a community meeting for Okanagan Indian Band members in July, Vancouver lawyer Devrin Froese spoke of the complex web of legalities surrounding the current situation.
According to Froese, the Indian Act states that reserves are subject to ministerial approval and "may not make bylaws inconsistent" with federal laws. However, the Indian Act also states that the First Nations Land Management Act, a law that gives First Nations power over the use of their land, states, "In the event of any inconsistency or conflict between this Act and any other federal law," this law prevails.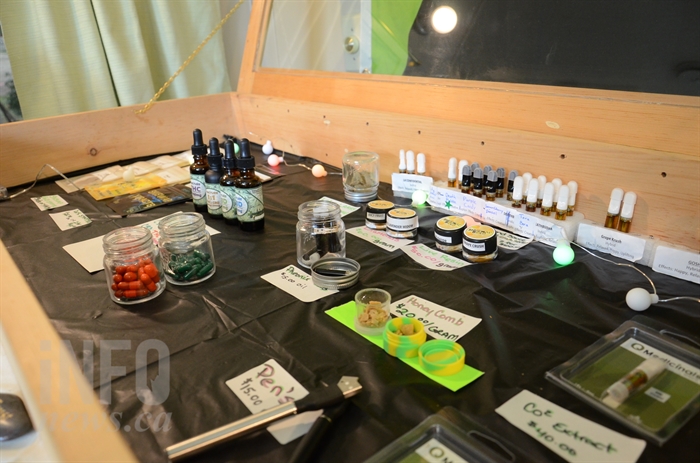 Some of the goods on offer at River Bear Dispensary.(BEN BULMER / iNFOnews.ca)
Along with this conflicting narrative, Froese also points to Aboriginal rights, which are inherent rights to self-regulation, and could supersede both provincial and federal laws.
While the legalities are complex, they could ultimately lead to First Nations making their own bylaws for cannabis on reserves.
Splatsín First Nation chief Wayne Christian told Global Okanagan the band would be implementing its own laws about cannabis use and that the province had no jurisdiction on the band's land.
The Okanagan Indian Band has drafted bylaws regarding the pot shops but it's unclear how they plan to move forward. The band did pass a motion placing a moratorium on any more cannabis stores opening on the reserve in May, although it appears to have been ignored.
A member of the Splatsín First Nation, Johnson is quick to point out her store, the land, and the cannabis she sells are all owned Splatsín band members.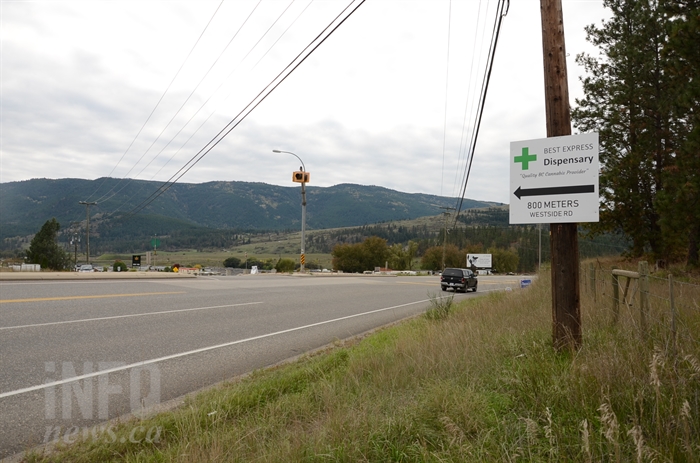 Signs on Highway 97 advertise pot shops on Westside Road.(BEN BULMER / iNFOnews.ca)
Johnson said she approached the band council before setting up the business and is currently talking with them so Splatsín band members and the community can benefit from the economic rewards of cannabis.
She's not against some regulation and points out education and safe consumption are key in the cannabis industry.
"I want to see Indigenous people have their foot in the door in this industry," she said.
She's also concerned non-band members are using the lack of clarity in the law as a loophole to open cannabis stores on the reserve.
"They come here, they make their money, they bypass all the rules and regulations of their government… put the Indians down and open up shop here and don't give anything back to the community," she said.
"They are going to come here and they are going to eradicate small business owners like ourselves, it's already starting."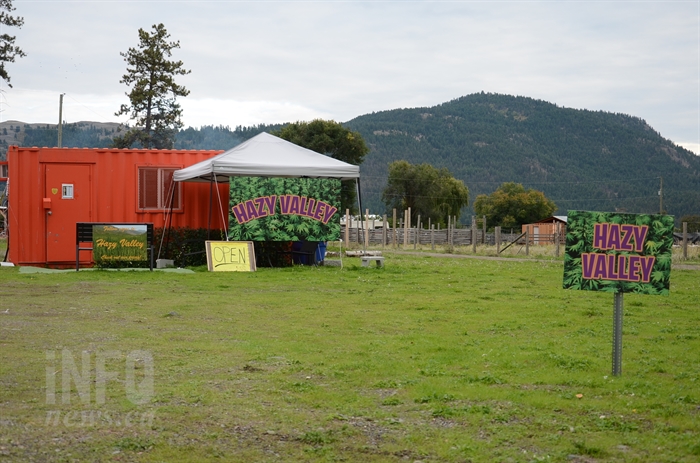 Hazy Valley pot shop on Westside Road.(BEN BULMER / iNFOnews.ca)
Johnson said issues of poverty on the reserve could mean band members would allow cannabis stores to open on their land, while only taking a fraction of the profit. She said she had no problem with competition and happily supports other Splatsín owned businesses.
Up the highway next to the graveyard sits a rustic-looking cabin which is the Five the Dime cannabis store. It recently opened and is owned and operated by a Splatsín band member. The owner politely refused an interview, instead saying to speak to the band council.
Across the highway, a minute away, Fort-Wenty Cannabis is in sharp contrast with the Five the Dime. What appears to be a brand new building is by far the most expensive-looking cannabis store. According to their Facebook page, the store opened a couple of weeks earlier choosing the auspicious time of 4:20 p.m. to open their doors.
However, not all the cannabis store's on Splatsín land around Enderby have recently opened.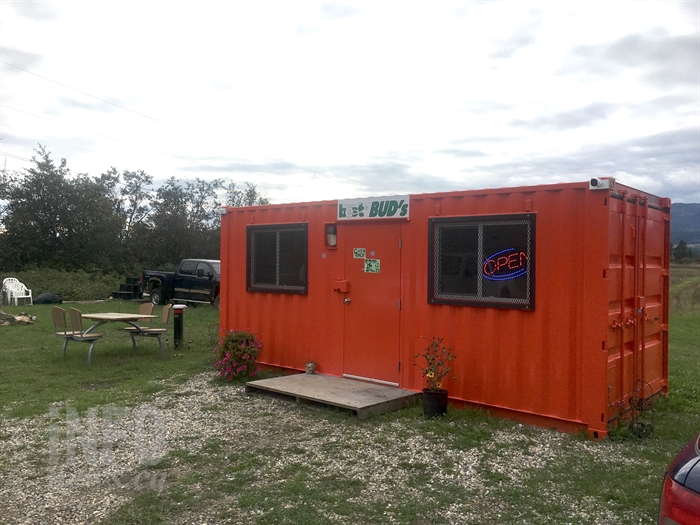 Not all pot shops are on The Green Mile(BEN BULMER / iNFOnews.ca)
Amidst the stalls that make up the Enderby Flea Market stalls selling everything from fresh bannock to antiques, sits The Shack. A blackboard outside reads "For all your cannabis weeds" and according to locals the windowless wooden shed has been around since summer 2018 or maybe longer. The staff are friendly but hesitant to talk, the owner doesn't get back to us when our number is left.
And more stores are coming. A fifth cannabis store is slated to open across from the flea market next to the Tim Hortons.
Okanagan Indian Band member Carl Gregoire plans to open the cannabis outlet in the very near future and chose the site near Enderby over the Green Mile, which he said has now become a saturated market.
Heading to the junction of Highway 97 and Westside Road it's not hard to see why Gregoire thinks that.
A sign on Highway 97 advertises Best Express Dispensary and turning off onto Westside Road drivers are immediately greeted with a 20-foot high sign for Nature's Own Cannabis Drive-Thru. It's the second Nature's Own Cannabis store on the Okanagan Indian Band reserve.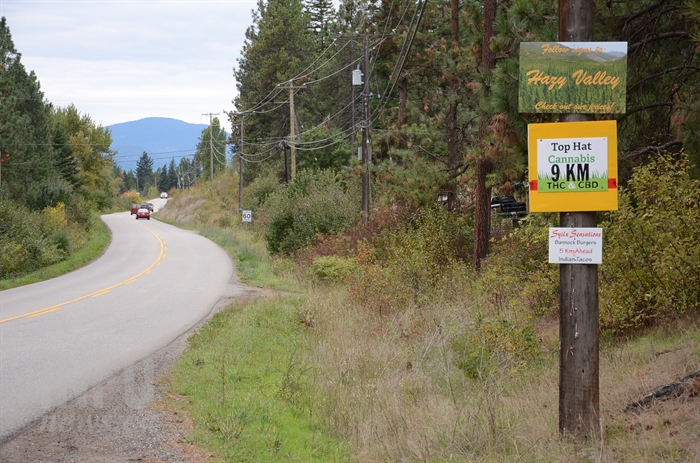 Even the signs along Westside Road have had a makeover.(BEN BULMER / iNFOnews.ca)
Further down the road, a large inflatable green man flaps about on top of the Best Express Dispensary sign. Makeshift signs that count the kilometres to various cannabis stores have been replaced with shiny new ones. "Follow signs to: Hazy Valley" reads one and drivers who reach it will find a brightly coloured converted shipping container, with eye-catching signage and a couple of benches outside. A few months earlier an old trailer sat at the site.
One cannabis store assistant says several times a week cars of tourists pull in, doing a self-guided tour of the stores on the Green Mile. And much like the tours around the Okanagan's vineyards, there's a rumour of someone setting up a Green Mile equivalent.
However, not all cannabis stores on OKIB land are easy to find.
Outside of Armstrong down a dirt potholed road surrounded by farmland sits Best Bud's dispensary. The small red converted shipping container might not exactly be in a high traffic area but the store – which sits on a parcel of OKIB land – is well stocked. The owner refuses an interview, saying maybe in the future.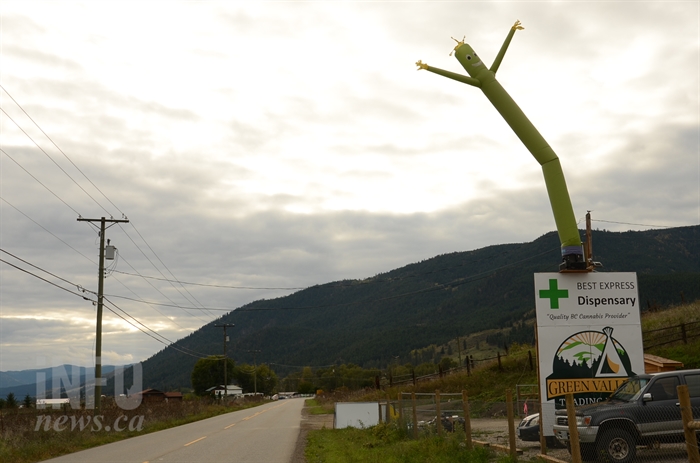 Best Express Dispensary recently opened on Westside Road(BEN BULMER / iNFOnews.ca)
Best Bud's isn't the only pot shop on OKIB land but outside the Green Mile. Indigenous Bloom set up shop on a parcel of OKIB land in Lake Country and Terra Vida opened its doors next to the Vernon Regional Airport in June.
Back at the Forest Bear in Enderby, Johnson is helping out a senior with her purchases. The majority of her customers are seniors she says and they come to the store for medical reasons. It's obvious Johnson is passionate about helping them out.
It seems in inevitable regulations will come to reserve lands, although how that will affect the situation remains to be seen.
One thing Johnson does know though is, "if you are in this to open up and get people stoned…you're sadly mistaken."
Neither the Okanagan Indian Band or the Splatsín First Nation were immediately available for comment.