Canada is poised to become the largest federal weed market in the world.
From Vice News link to article by Rachel Browne, Jun 7, 2018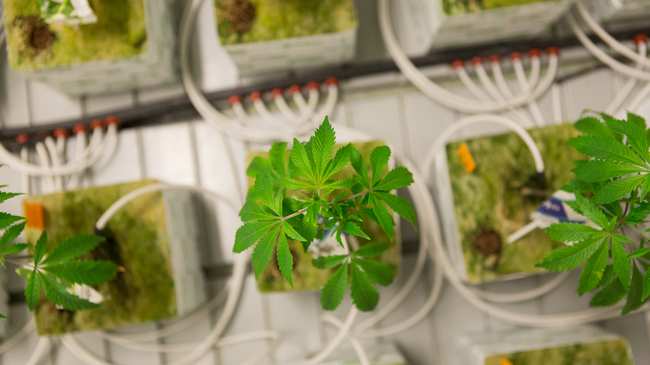 More than a year after it was first introduced at Parliament, the Canadian government is finally poised to pass the law that will legalize recreational cannabis and turn Canada into the world's largest federal weed market. After the Senate has its final vote on Bill C-45 on Thursday, it's expected to quickly receive Royal Assent, making it law.
Canadians are already among the world's biggest weed consumers. But this legislation will have profound effects on a range of issues including the economy, criminal law, and the country's reputation on the world stage.
There is still some housekeeping to sort out and it will be anywhere from eight to 12 weeks before anyone is allowed to buy legal weed as the provinces and territories get their retail systems in order.
Crime
Once the new law comes into force, it will no longer be a crime to buy, consume, and grow your own weed in Canada. Adult tourists and residents alike will be allowed — for the first time — to walk into a government-approved store and purchase up to 30 grams of dried or fresh cannabis, and smoke or eat it without hiding from the cops. And minors under 18 won't be charged criminally for sharing up to 5 grams of cannabis among themselves. Most provinces and territories have banned public consumption, meaning that it has to take place in private. But experts predict such rules will likely be relaxed as the substance becomes more normalized.
However, the law imposes harsh punishments for people who continue to operate outside of the legal framework. These may include fines from $5,000 for individuals who break the law or up to $100,000 for "organizations" that do, and up to five years in prison for illegal possession and up to 14 years for illegal cannabis distribution. The provinces and territories will determine any by-law infractions for individuals and companies that violate rules around retail sales. It will still be illegal to buy edibles and concentrates after legalization, but the federal government says it will revisit legalizing them sometime next year.
It's unclear whether the hundreds of thousands of people who were charged and convicted of simple cannabis possession under the old law will be granted mass pardons for an offence that's no longer a crime. Police data has exposedsignificant racial discrepancies in simple cannabis possession charges across Canada. While new campaigns are urging the Liberals to take action on pardons, the Prime Minister and public safety minister have said they will look into the issue after legalization comes into effect — although they won't say exactly when.
In a statement to VICE News, the Public Prosecution Service of Canada, which prosecutes all Canadian drug crimes, said legalization "will have an effect" on its work and that it's "preparing for the adoption of the new legislation by monitoring its cannabis-related prosecutions as it continues to prosecute cases under the existing legislation." The PPSC would not say whether it plans to withdraw all ongoing cannabis possession charges once the law takes effect.

Border
It doesn't matter if it's medical or recreational cannabis, it will remain a crime to bring in or cross the Canadian border with it. Only cannabis companies with licenses from Health Canada are allowed to import and export cannabis with special permissions. That means that anyone coming into or leaving Canada will confront existing laws on cross-border drug trafficking.
But in the months leading up to full legalization in Canada, legal experts have been sounding the alarm over how they predict Canadians crossing the U.S. border will face increased scrutiny by American guards as the drug remains federally illegal there. Some even warn that Canadians who admit to U.S. border agents to ever smoking weed could be banned from entering the country for life — even if there isn't a shred of cannabis in their possession at the time.
"This blanket denial of entry is going to be really problematic for Canadians, and to foster folks to not be honest when they're crossing," Jenna Valeriani, an advisor at the Canadian Students for Sensible Drug Policy, told VICE News in a previous interview. "There are larger implications that need clarity and it needs to come from the Canadian government and they need to engage the U.S. on a conversation about what this means for Canadians."
Public Safety Minister Ralph Goodale has attempted to argue that there is no reason why American officials should start behaving any different towards Canadian travellers after legalization takes effect, but he hasn't said definitively whether the border will be affected.
Indigenous
The legal cannabis market is already presenting both challenges and opportunities for many Indigenous communities across the country. Former national chief of the Assembly of First Nations Phil Fontaine spent 2017 travelling to meet with First Nations and cannabis companies about the potential for future jobs and economic growth. He recently became the CEO of Indigenous Roots, a medical cannabis company by and for First Nations.
Other cannabis companies are partnering directly with Indigenous communities, including 48North Cannabis, which has investments from 49 First Nations. The company has community benefit agreements with First Nations and has been providing drug and alcohol education on reserves.
"This is a unique opportunity. This sector is different than any other the Indigenous community has experienced," Fontaine told CBC. "Everyone is starting off at the same point."
Fontaine made those remarks last year, around the time First Nations leader attending the Assembly of First Nations annual conference who called for the right to oversee the sale and distribution of recreational weed in their communities. The AFN has struck a committee to monitor the effects of legalization on First Nations peoples and to document any concerns about health and safety.
"Our people are going to say, 'Listen, we have Aboriginal treaty rights, we have economic rights as First Nations people. Who is Canada to say we can't have a dispensary in our community?'" Ontario Regional Chief Isadore Day toldconference attendees. He added that First Nations should not feel bound to any provincial rules around cannabis, for instance, if a community wanted to raise the minimum age of consumption.
The Senate has urged the federal government to negotiate a revenue-sharing agreement with First Nations communities on cannabis. But it's unclear when that will be finalized. The First Nations Tax Commission has recommended that taxing authority be given over to First Nations governments so they can implement their own levies on cannabis produced on reserves.
Eric Costen, the director general of Health Canada's cannabis branch said that there is still room for Indigenous perspectives in the legal frameworks. "The reality is the way the legislation is being designed is they are meant to coexist, not meant to step on each other's toes," Costen said.
International Relations
In addition to altering Canadian society, cannabis legalization will change the way Canada is perceived on the world stage. One of the biggest hurdles remains the international drug treaties to which Canada is a part, and is also breaking by legalizing weed at all.
This week, opposition parties and international drug law experts urged the federal government to finally reveal what its plans are for the three United Nations drug treaties that prohibit domestic laws that legalize recreational cannabis. Those three UN drug control treaties date back to 1961 and Canada is currently among 185 signatories to them. Experts are calling on Canada to withdraw from the treaties that contradict the new drug policies. However, it's far too late for the country to withdraw in time given that the convention requires notice of withdrawal at least six months in advance.
Justin Trudeau and Foreign Affairs Minister Chrystia Freeland have not said what the government will do on the treaties or when.
"We are currently examining a range of issues, including our international commitments," Freeland's director of communications told The Canadian Press this week.
Business
Once weed becomes legal, Canadians are expected to increase their weed consumption by 35 percent and spend up to $7 billion on legal and illegal cannabis by 2019, according to a report released this week by accounting firm Deloitte.
The report, based on a survey of 1,500 adults from all provinces, predicts that 63 percent of cannabis consumers will switch from the illegal to the legal market. That's in spite of the higher price tag that will include a 10 percent tax expected to rake in $100 million for the federal government after the first year. It also found that six out of every 10 cannabis users currently prefer to consume it in edible form, which means the black market in Canada for those products will continue to thrive until the federal government legalizes it too.
And Canada's legal weed market has provided endless opportunities for American cannabis investors who have been prevented from cashing in at home due to the U.S. federal prohibition on cannabis for any purpose. For example, the top five publicly traded cannabis companies on the Toronto Stock Exchange have a market value of nearly $20 billion and new cannabis companies are being listed there, and on other smaller exchanges.
Since last fall, the number of companies granted licenses to produce cannabis has ballooned from a couple dozen to 105, with new licenses being granted on an almost weekly basis. In order to keep up with the pace, Health Canada has also doubled its staff on the from to more than 300 people. Experts predict there will need to be hundreds of licensed producers in order to keep up with the demand.