Local farm initiative offers free food to Batchewana First Nations
From Soo Today Sponsored Content July 15 2022
Growing food is a great way to develop food sovereignty. It's also a great way to develop a strong sense of community.
That ideal is the primary purpose of The Ranch15D, an Indigenous farm and medicinal cannabis dispensary located in the sovereign and unceded Anishinaabe territory of Batchewana First Nation. Founded in 2018, The Ranch15D is focused on local livestock and vegetable farming as a way to ensure local members of Batchawana First Nations have a source of food.
"Three summers ago it was just bush here," explained Brendan Syrette, a sovereign Ojibwe man and overseer of the Ranch15D initiative. "Now we have a food plot that is producing food. It's not as big as I'd like it to be, but the point is it is growing. I'm reminded by others that Rome wasn't built in a day. It does take a lot of work."
The goal for the Ranch15D is to produce food for up to 1,000 community members, who can enjoy the harvest for free as needed to feed themselves and their families.
According to Syrette, the farm started off with a couple chickens, but has since grown to include lettuce, corn, beans, tomatoes and cabbage, along with some ducks and a goat.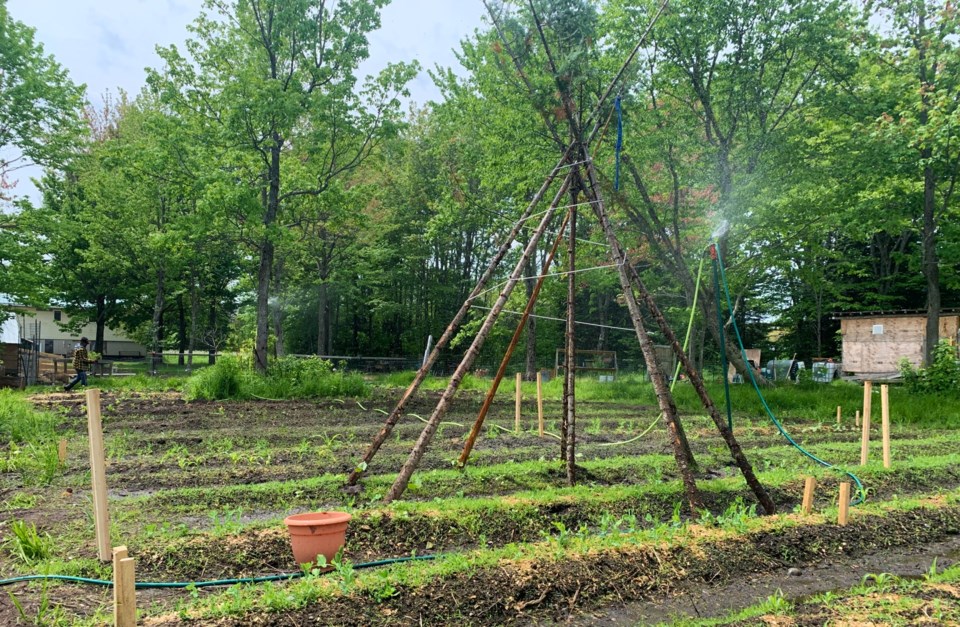 "It's still in the early stages and growing still," he said. "Sometimes we get 900 eggs a month for the community along with other items. Whoever needs it comes and gets it for free. It's a start."
Syrette said the pre-Colonization Indigenous nations like the Annishnaabe recognized the need for taking care of their own through farming and sharing food.
Many of the settlers who arrived in the area learned how to farm through the teachings of First Nations people. In recent years, there were generations of both First Nations people and settlers who had never seen food produced from scratch. For that reason, Syrette sees The Ranch15D as a great teaching tool as well whether the crops are abundant or less than expected.
"When I first put seeds in the ground I wasn't expecting anything," he said. "Standing out here last year in the fall it was really great to see the results of the harvest. I'd never been part of that. When you spend four or five months of the year and in the end you discover something doesn't grow as anticipated, there's things that happen to you. You end up learning. It's great that the dirt and soils in those plants can help us. You learn to grow. You learn to feed."
To continue to grow and assist the community in developing their food sovereignty, Syrette said The Ranch15D will require to attract more volunteers to aid in the development.
"At the end of the day, it's just labour intensive. It doesn't matter who you talk to, when it comes to pulling weeds and stones it's strenuous. People love the benefits from the food and they should. Sometimes there's only a handful of us who can take that responsibility on. It's not a challenge, it's about the growth. Later on once we get better machinery and things that help us maintain the soil we'll be able to spread this garden and make it flourish."
Visit The Ranch location at 1564 Old Garden River Road and find them on Facebook here.