Staff members of the Green Cross 6N medicinal cannabis dispensary received multiple injuries at the hands of Six Nations Police during a raid on October 9th.
SIX NATIONS – At approximately 5pm on the evening of October 9th, 2019, Six Nations man Alyziah Styres, 20 responded to a noise at the front of the property where he was immediately accosted by members of the Six Nations Police Cannabis Task Force. In an interview conducted by Rhonda Martin of the online show Got Something To Say? Styres said "He swing-tackled me… and then as I was on the ground they were jumping around celebrating." Styres went on to say that he was handcuffed and placed in a cruiser "without being read my rights or shown a warrant or anything".

Ryan Davis, 25 who was inside the store at the time, said "I just saw someone dressed in all black [through the window] and there was just a gun in my face and I thought it was a robbery at first… we have a robbery procedure where we have these steel rolls downs, so I pulled those down." Kenny Davis, 20 who was also inside, stated that while the police were attempting to gain entry they "went around the building and smashed out all the glass, every inch it sounded like, it just sounded like firecrackers going off."
According to Ryan Davis, as the police entered the building, he and his brother Kenny Davis lay on the ground with their hands behind their head, while their friend Dallas Porter, 20 got down on his knees because he had a tracheostomy tube inserted.
This is when Ryan Davis alleges that "they sucker punched me out of nowhere … then they started kicking and stomping on my head". Ryan Davis has provided Dispensing Freedom with a hospital bracelet and note from the hospital stating that he was placed on concussion watch.
Ryan Davis also developed a golf-ball-sized hematoma on the side of his head. Porter told Dispensing Freedom that "one of those cops pushed my head down and I hit my nose off a patio stone." Both Porter and Styres said that Porter was refused access to his medical devices at the scene, specifically a suction machine and Q-Tips to clear his tracheostomy tube. This refusal of medical services could have been potentially fatal. Porter was taken to hospital where he was diagnosed as having a fractured nasal bone.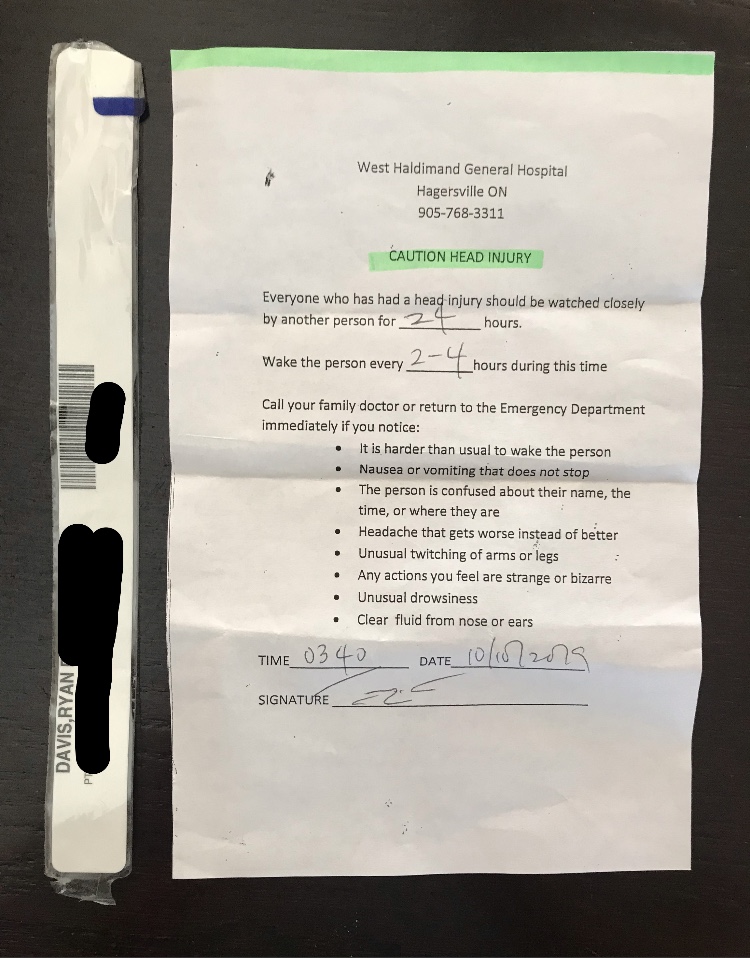 All four young men told Dispensing Freedom that as of October 16, they still have not seen a warrant. None of the men were charged with resisting arrest or assaulting a police officer. They were each charged with two provincial charges, possession of cannabis and possession of cannabis with intent to distribute and one federal charge of possession of cannabis with intent to sell. Their next court date will be on December 12, 2019 in Brantford, Ontario.