From anishinabeknews.ca link to article by Leslie Knibbs May 7th 2018
SERPENT RIVER FIRST NATION—On April 25, Serpent River First Nation (SRFN) Community Wellness Department hosted a one-day information and sharing session to educate citizens about the upcoming legalization of Cannabis, what First Nation community members need to know, and to answer any questions members might have. Over 100 community members attended the session.
Representatives from the provincial and federal government gave an overview of the legalization legislation in Bill C-45 related to Cannabis. Conspicuously absent at the head table of government officials were any Chiefs from Ontario to share their views in this information and sharing session. A request to invite Ontario Regional Chief Isadore Day and the National Chief to be present at the head table was made.
Carol Hopkins from the Thunderbird Partnership Foundation, a national organization, spoke at the session.
"Some elders across the country from various linguistic cultures of Indigenous peoples have said that Cannabis has been used by our people in two specific ways," said Hopkins.

One use for cannabis has been as a topical solution prepared in a culturally appropriate way to treat pain such as arthritis and according to Hopkins, Elders stated that it was not ingested or smoked. Hopkins added that Cannabis is used, when "prepared in a culturally appropriate way and within ceremony to lessen symptoms of psychosis [undiagnosed], such as schizophrenia".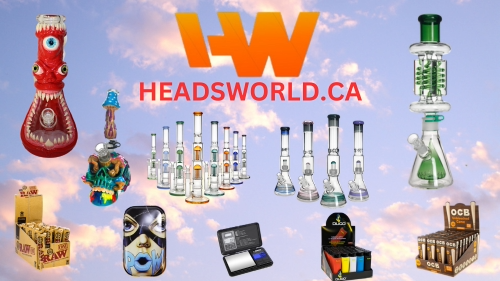 Kari Nisbet, a Senior Policy Analyst at Health Canada, told those gathered that the key guiding principles for Bill C-45 (Cannabis legalization) include, taking "a precautionary approach – start restrictive, [then] monitor and adapt". Other guiding principles are to reduce harm and risks and focus on public safety. Under the umbrella of public safety, two new criminal offences will be included in the Criminal Code. Penalties for giving or selling Cannabis to anyone under the age of 18 (19 in Ontario) will be subject to a maximum of 14 years closed custody [prison]. The same penalty will apply to anyone using an under-age youth "to commit a Cannabis related offence". Under the legislation, households will be limited to growing and harvesting four Cannabis plants for personal use.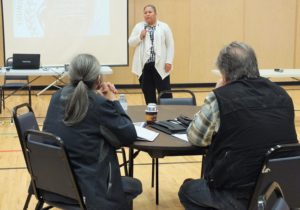 Carol Hopkins from the Thunderbird Foundation addresses the gathering of community members at SRFN Cannabis session.
During the question and answer period, one member of the community shared with government officials that as a result of taking prescribed drugs approved by the government, she now suffers from schizophrenia, ADHD and PTSD, as well as other mental issues. She expressed her concern that four plants were not an appropriate amount to assist her in alleviating her symptoms. Tearfully, she told the government representatives, "I need more than four plants." Gathering herself, she said, "it should be up to the First Nation to decide how many plants." Shortly thereafter, the distraught woman left the session and returned later.
Indeed, it was a lively session where members of the community brought up issues including revenue sharing, constitutional rights, taxation, and store locations. In answer to SRFN councilor Steve Meawasige's question of how many stores are slated for First Nations across Canada, he was told, "none at this time".
Local SRFN businessman Jeff Jacobs showed his disappointment with the fact that there are no stores slated for First Nations. Jacobs referred to the new market coming for legal Cannabis as "a very good opportunity", and he told government officials, "you've taken away our timber, our minerals, our water and many other things." Looking around the roomful of people, Jacobs continued, "I implore our leadership to hold onto this one", suggesting that First Nations participate in forthcoming the Cannabis industry boom.
According to representatives from the province, there will be "legislative flexibility" afforded to First Nations under the Cannabis Act by the Attorney General to adapt their own community approaches to Cannabis relating to minimum age, places of use, sale and delivery on reserves. Under the Cannabis Retail Corporation Act, the Lieutenant Governor may upon request from a band council to designate a prohibition from using Cannabis on their reserve, much like the "dry reserve policy". The Lieutenant Governor may also approve a First Nation band council to enter into an arrangement with the Minister of Finance allowing the sale and delivery of Marijuana on reserves….that's the good news for any potential Cannabis entrepreneurs; the bad news is the sale of Cannabis off reserve or online by a First Nations business is strictly prohibited reducing market share.
At present, Ontario Licensed Producers (LP) make up 54% of Canada's total number with 55 operating in the province. One such operation located in Kirkland Lake is a joint venture between DelShen Therapeutics and Ontario First Nations. Following the repurposing of a "forestry growing operation" to what the province calls a "state of the art Cannabis production facility", the province claims there will be nearly 100 new jobs created with a total of $18 million invested.