From infotel.ca link to article by Ben Bulmer, June 18th 2019
NORTH OKANAGAN – Turning off Highway 97 and heading southwest on Westside Road north of Vernon, motorists only need go a matter of metres before they're met with a sign that reads 'Top Hat Cannabis 14K.'
The homemade sign is the first marker on the road that leads into the Okanagan Indian Band reserve, and as the kilometres go by more signs appear, counting down the distance to the recreational cannabis store.
The stretch of Westside Road near the Little Kingdom grocery store has been dubbed "The Green Mile" and it's not hard to see why.
The Top Hat Cannabis store sits just a stone's throw from Little Kingdom Medical Hemp and Cannabis, just a short walk from the Wakenbake drive-thru. And while the Wakenbake doesn't actually have a drive-thru window where customers can place an order, there is patio seating outside and ample parking.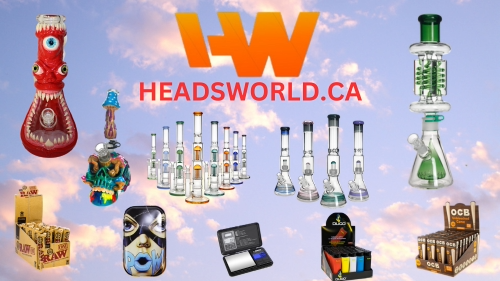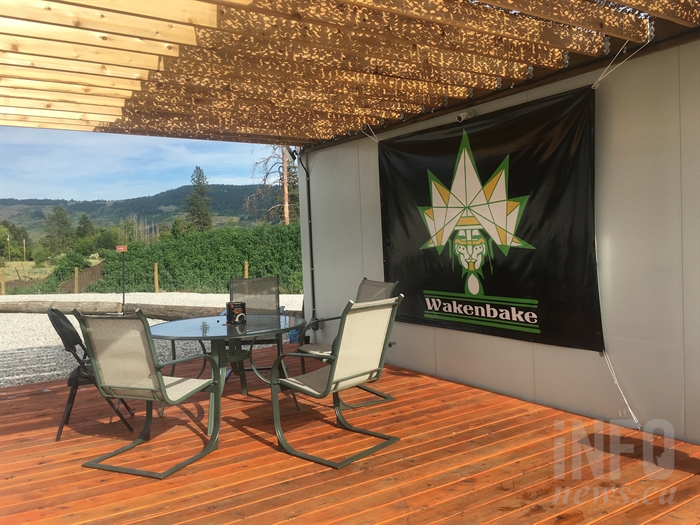 The patio outside the Wakenbake Drive-thru cannabis store(BEN BULMER / iNFOnews.ca)
An unmarked trailer parked nearby seems less concerned with advertising and has no formal sign accept a makeshift piece of card which reads "no product on premises" when closed. Locals say it's a cannabis store.
While the City of Vernon has approved 12 applications for non-medical retail cannabis stores – including a U-turn decision for a store previously rejected that got the green light on June 10 – none have yet to open.
According to the province, only 30 privately owned non-medical cannabis stores have been approved in B.C. and only three of those are in the Interior. With the province currently having 345 applications moving through its system, it appears the businesses on 'the Green Mile' weren't going to wait and bother with the bureaucracy.
"We're operating in a grey zone," a person working at one cannabis store says.
The idea behind the "grey zone" is that as First Nations reserve lands are not under provincial jurisdiction, many feel there's no need to apply for a licence.
Speaking on the condition of anonymity, the partner in the business says he worked in the cannabis industry for close to 20 years, but legalization meant working in medical cannabis in Vernon is no longer possible.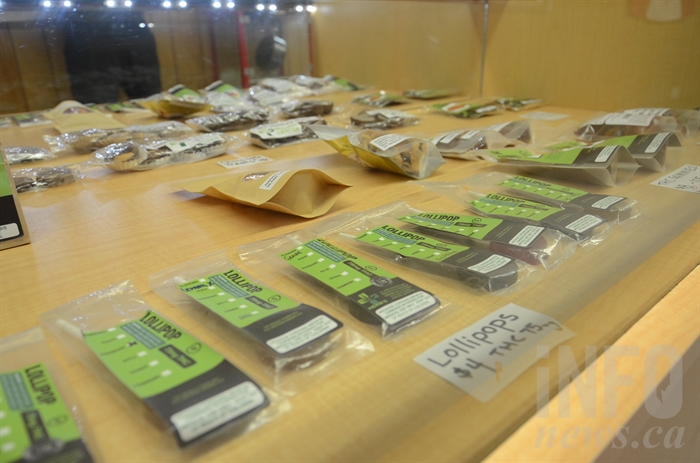 Cannabis lollipops, as well as a large selection of edibles on sale.(BEN BULMER / iNFOnews.ca)
The current landowners approached him and the store opened in March without provincial approval.
The store sees a lot of people travelling from Vernon now that medical cannabis is no longer available there.
"It's entrepreneurial, to bring some kind of economy onto the reserve… jobs are being created in the community," he says.
It may just be a trailer from the outside, but inside the store is spotlessly clean, bright, and well stocked. Late in the afternoon, it's also attracting a steady stream of customers.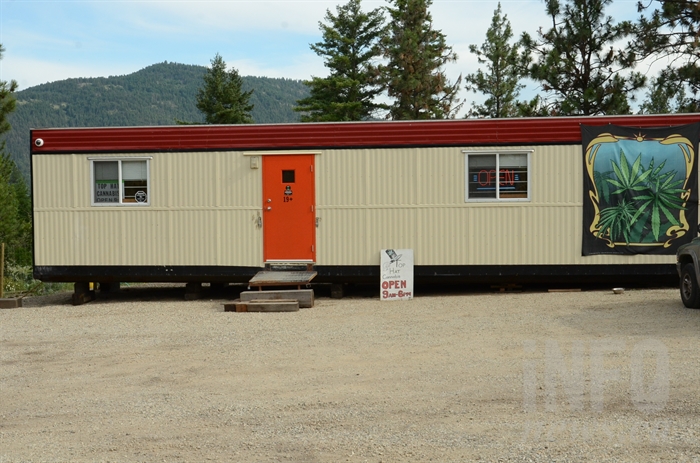 It may not look like much from the outside, but inside the store is well stocked with dozens of products and types of ways to consume marijuana.(BEN BULMER / iNFOnews.ca)
"It was the best weed I've ever smoked," one customer tells the sales clerk.
With names like Incredible Bulk, Black Diamond and Franks Incense, the store has over two dozen different types of cannabis, as well as a variety of hashish, gummies and lollipops, truffles and oil, as well as joints rolled in gold leaf they call "novelty" products.
It appears the success of the green mile hasn't gone unnoticed by the Okanagan Indian Band council who passed a moratorium prohibiting any more cannabis stores from opening on the reserve May 27.
However, according to the province, there is no "grey zone."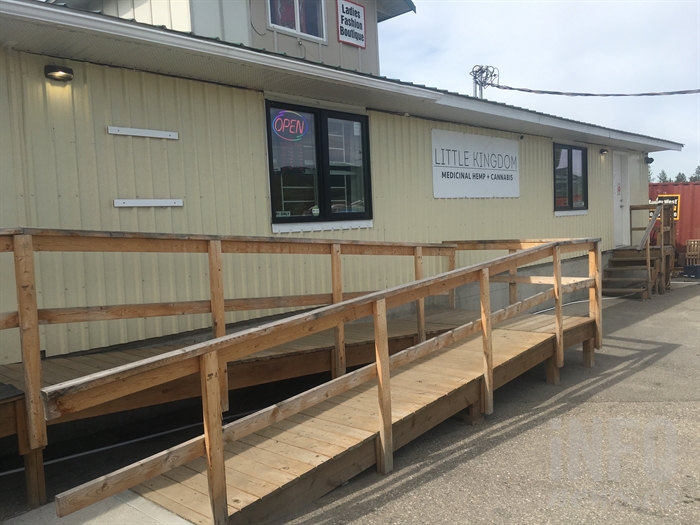 Another store on 'The Green Mile.'(BEN BULMER / iNFOnews.ca)
"Prior to the issuing of a licence, the Province requires a positive recommendation from a local Indigenous nation where the proposed store would be located on an Indian Reserve, treaty settlement land, or Nisga'a lands," an email from the Ministry of Attorney General says.
British Columbia Assembly of First Nations Regional Chief Terry Teegee described the current situation surrounding the law as "in flux."
"If it's on reserve then it's a federal jurisdiction, so where does that leave us?" he said. Chief Teegee said the cannabis issue brought into play plenty of questions concerning First Nations governance.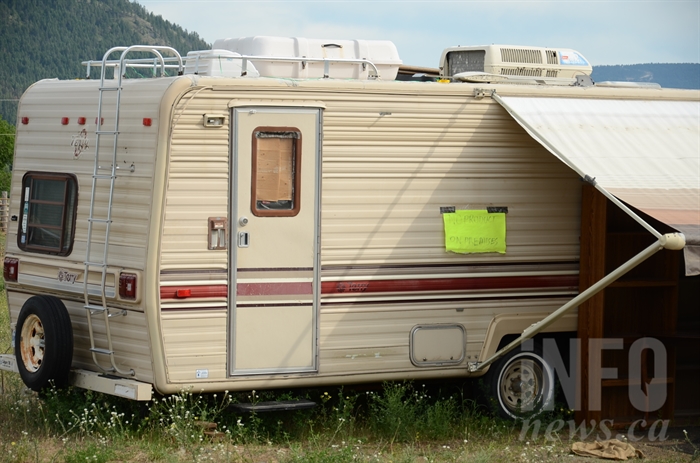 Some stores are not as well advertised as others.(BEN BULMER / iNFOnews.ca)
While not having to jump through the hoops of the provincial government's regulations may sound like an enticing business proposition in a region with so few cannabis stores, most reserves don't appear to be embracing it.
The Penticton Indian Band said they didn't have any cannabis stores, while the Westbank First Nation said they were in the consultation stage of drafting bylaws and currently didn't have stores. A cannabis store on the Tk'emlúps te Secwe?pemc reserve in Kamloops has no website, Facebook page or accessible phone number, but a neighbouring business said it did exist. Locals say a makeshift store often sets up at the flea market on Highway 97A just south of Enderby on the Splatsin First Nation.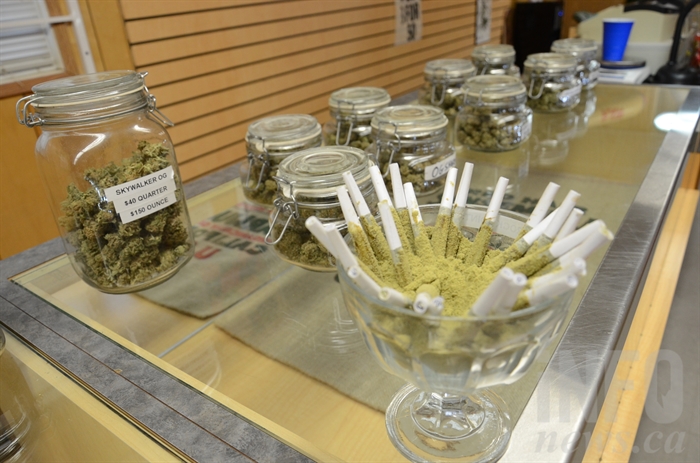 Joints rolled in cannabis oil and then rolled in cannabis.(BEN BULMER / iNFOnews.ca)
The situation is a far cry from when cannabis company Indigenous Bloom opened a store on the Williams Lake Indian band and held a ribbon-cutting ceremony with local councillors who posed for photos for the Williams Lake Tribune. The company also opened a store in Lake Country but without the fanfare.
Chief Teegee said opinions vary from community to community as to whether to embrace cannabis as an economic driver or restrict its use. The only thing clear right now he says is that "everything is in flux."
The Okanagan Indian Band did not return our call by press time.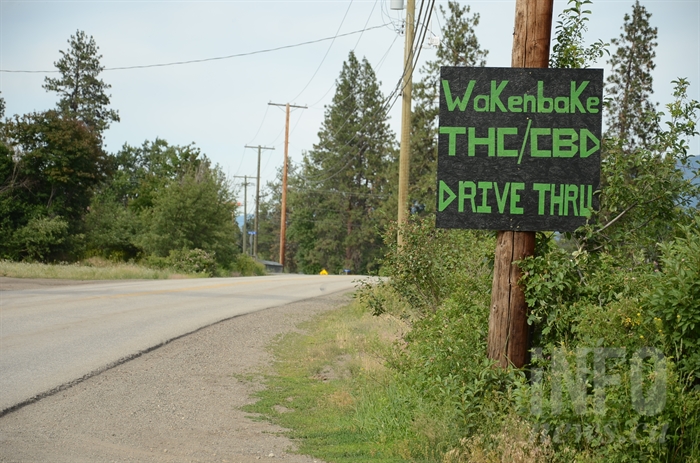 Roadside advertising.